Did you ever wonder why drill bits have different colors? Do the colors have anything to do with the quality or strength? Well, we are going to explore it in this blog post.
Drill bits are made of different materials. Generally, they are made of High-Speed steel (HSS) & Carbon steel. Different coatings and treatments vary the properties according to the application and intended use.
Generally, the color of drill bit has no direct relationship with the quality or strength of the drill bits. Different colors are sometimes a result of surface treatment or as a result of differences in processing technology.
| Drill Bit Type | Material | Color |
| --- | --- | --- |
| Tungsten Carbide Drill Bit | Tungsten + Carbon + Iron | Silver Grey |
| Cobalt Drill Bit | M35 + M34 Alloy + Iron | Dull Yellowish Golden |
| Titanium Nitride Drill Bit | TiN Ceramic Coating + HSS | Bright Golden |
| Zirconium Nitride Drill Bit | Zirconium Nitride Coating + HSS | Silver to Dull Gold |
| Titanium Carbo Nitride Drill Bit | Ti-Carbo Nitride Coating + HSS | Blueish + Purple |
| Titanium Aluminium Nitride Drill Bit | TiAIN coating + HSS | Black or Silver |
| Black Oxide Drill Bit | Heat Treated Oxide Layer | Dull Black |
Summary of different colored drill bits
However, adding a specific material, coating, or surface treatment can give drill bits a unique color. In this blog, we'll discuss some materials and coatings that can give a particular color to a drill bit.
Materials & Coatings That Can Give a Specific Color to a Drill Bit
1) Tungsten Carbide Drill bit
Tungsten Carbide is a compound of tungsten and carbon. They are usually, grey in color and have a bright finish. But it can also be otherwise colored.
The other way you can tell if it's a tungsten carbide drill bit or not is by using a magnet. If you can pull out the magnet easily it is for sure tungsten carbide. Otherwise, it is an iron-based drill bit.
2) Cobalt (C0) Drill bit
Cobalt drill bits are dull/yellowish golden in color. Its color is not painted or plated. It is a steel (High-speed steel) alloy that contains 5 ~ 8 %. The 5% alloy is known as M35 while the 8% alloy is known as M42.
Cobalt drill bits are usually marked as HSS Co. They look like the following pictures in appearance.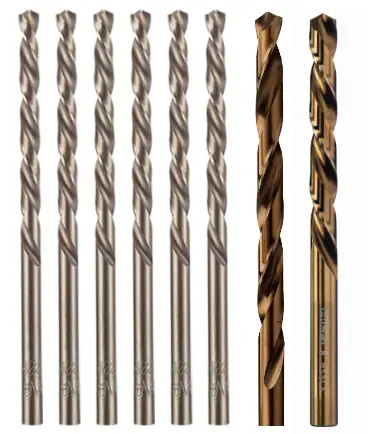 3) Titanium Nitride (TiN) Drill bit
Titanium Nitride (TiN) drill bits are HSS drill bits but coated with Titanium Nitride. These drill bits are bright gold in color, usually the twisted part and NOT the shank of the drill bit. They are normally marked as TiN.
TiN is a ceramic material that increases the surface hardness of drill bits. The TiN coating thickness ranges from 1 – 2.5µm. These drill bits, once they become blunt, it cannot be sharpened due to the coating material being worn away.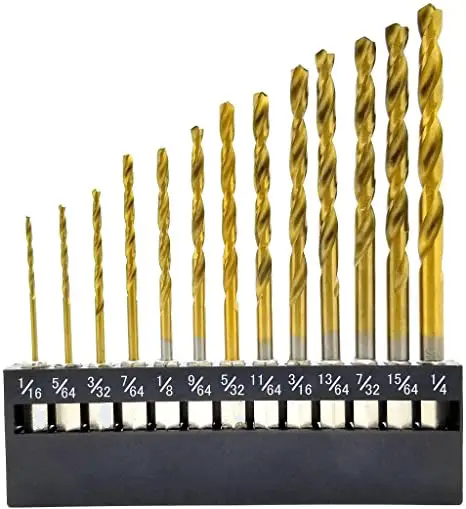 4) Zirconium Nitride (ZrN) Drill bit
It has a Champagne gold base color but can vary from silver to dark gold color. HSS drill bits are coated with zirconium nitride, a ceramic material.
The coating thickness is about 1 – 5µm. It is one of the most versatile and precise drill bits you can have. It is tougher, more durable, and is used frequently where other coated drill bits failed.

5) Titanium Carbo-Nitride (TiCN) Drill bit
Titanium Carbo-Nitride drill bits are typically blueish or purple in color. These drill bits are also HSS with Titanium Carbo-Nitride coating, with thicknesses ranging from 1 – 4µm. These are slightly harder, better wearing & high service temperature than TiN.

6) Titanium Aluminum Nitride (TiAIN) Drill bit
These drill bits are usually bright blue/black in color. Adding Aluminum to Titanium Nitride improves the oxidation resistance property & cutting speed of the drill bit. TiAIN coating thickness is about 3 – 6µm.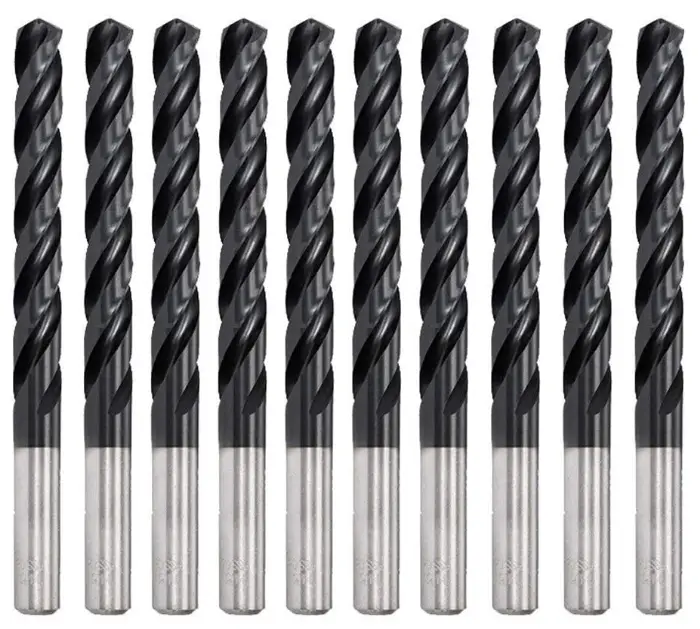 7) Black Oxide Drill bit
When the HSS drill bit is heated to 950°F a black oxide layer is produced. They are black in color. You can differentiate between TiAIN and black oxide drill bits by visually looking at them. TiAIN drill bit finish is refined compared to black oxide drill bits, which are not.
The other difference between these two is that the TiAIN drill bits are not black along their length only. The twisted part is black, while the black oxide drill bits are black in color along the whole drill bit length.

8) Diamond Core Drill bit
HSS drill bit material is embedded with diamond dust. They can be used for materials like glass, gemstones, ceramic, bone, and stone. However, they should not be used on ferrous metals.
They have different colors, and each can be used for a particular material. You can check out this website for more detail on diamond core drill bits here & here.
Conclusion
Adding different materials and coatings can give the same color to a drill bit as you have read above. That's why you should never judge a drill bit's material, quality or strength by its color solely.
Make sure the coating is not painted when you buy a drill bit. Some low-quality drill bits are painted to deceive the buyers. Be cautious when selecting a drill bit of the right material for your project. Always buy drill bits from well-known drill bit providers.
You can learn more about various types of drill bits here. Also, you can check out the best drill bits available on the market here and select the right type according to your project.