Since steel acquires qualities like corrosion-resistance, hardness and strength, it is the most commonly used metal. 
It is used in vehicles, utensils, construction and many household appliances. It is found in the form of stainless steel, carbon steel and many other alloyed shapes. 
Besides steel, metals like copper, aluminum, iron, etc. are also very frequently used. Drilling through such metals requires specific drill bits. 
One can find drill bits of every type in the market. But many complain later that theirs either wore off or snapped. 
Below are given 5 sturdy drill bits that drill deep, so you don't have to regret spending money afterwards.
Drill Bits For Metals
If you are someone who deals with machinery on a regular basis, you must be aware of the energy expenditure to drill through metals. You have to be extra careful while drilling holes in,
Stainless Steel
Aluminum
Carbon Steel
Copper
Which Drill Bits Are Great For Metals?
Upon searching, you will realize how wide the variety there is of drill bits. For instance,
High Speed Steel: these work best for wood, plastic and soft metals and okay for hard metals.
High Carbon Steel: HCS do a good job for plastic, wood and soft metals like copper & aluminum.
Gold Drill Bits (Titanium Nitride Coating): These work well for harder metals too.
Black Oxide Drill Bits: These drill bits come in handy for various materials like aluminum, copper, steel, etc.
BUT the ones that work best for harder metals are:
Titanium
Cobalt
Titanium Drill Bits
Titanium ones are the best for dense metals like stainless steel or carbon steel. Although they can't be sharpened, titanium bits are coated with titanium oxide and pass through wooden materials well.
Cobalt Drill Bits
These are made of Cobalt Steel and are heat resistant. Since the metal is steel, these are brittle. While drilling through materials like stainless steel, you should be careful with the speed and pressure.
If not, excessive downward pressure will break the them off. High speed will cause overheating, resulting in the wearing off of the tool.
How To Use Drill Bits For Metals?
Drilling through metals is a task in itself. The lifespan of drill bits solely depends on how you are using them and for which surfaces.
For efficient and safe use, proceed by following the given instructions. While drilling through metals, make sure to:
Drill as slowly as possible. At higher speeds, drill bits tend to overheat. You don't want that to happen as overheating dulls them and consequently, their lifetime.
Apply sufficient pressure in downward direction. Drilling through metals needs more force than drilling through other matter does. Apply adequate pressure or else the drill bit will break.
Use cutting oil for lubrication and smooth drilling. Cutting oil helps in regards of lowering the temperature and reducing friction. Using oil expands your drill bits' life too and you can use them for more holes.
Avoid high speed at all costs. At high speeds, the material will come flying off and might even hurt you. At slow speed, metallic residue sheds around the surface and doesn't fly off the handle.
5 Best Drill Bits For Metals
Now is the time to move forward with 5 Best Drill Bits For Metals. All five items are mentioned with elaborative reviews.
1. Dewalt Titanium Nitride Coated Drill Bit Set
The first one up on this list is Dewalt Titanium Nitride Coated Drill Bit Set. This set of 21 pieces comes in a see-through storage box. Dewalt provides connectable accessory storage system to organize drill bits easily.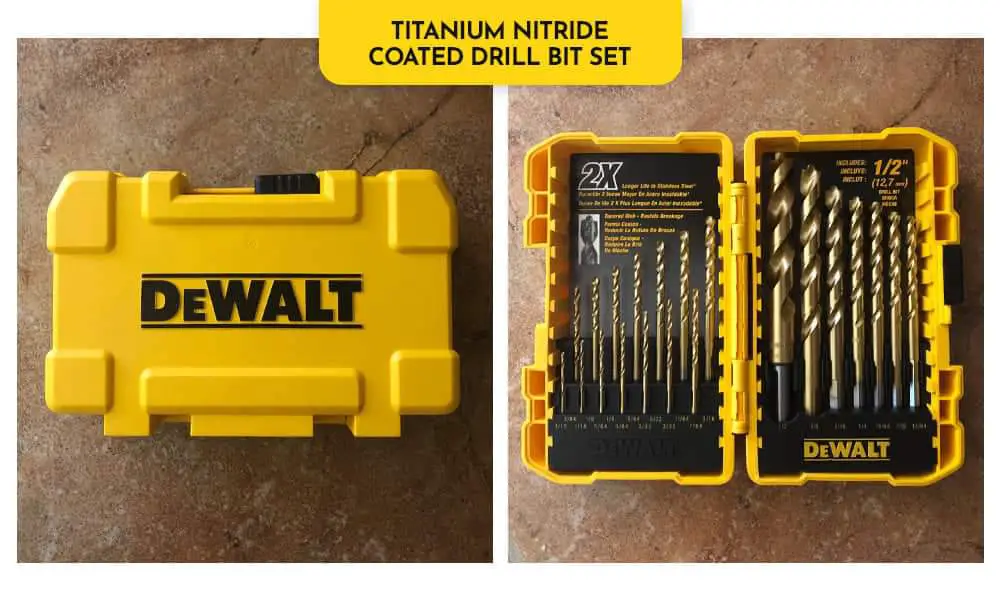 The storage case is bit-bar designed. Drill bits of different sizes fit in it and you are very unlikely to lose them. And the spiral flute makes this item a good fit for various surfaces.
Titanium Nitride Coating makes these bits rigid. TiN coated ones last longer and are dense enough to pass through metals, plastic, wood and concrete.
If thinner ones break in the process, don't get heated up! Extra drill bits of smaller sizes are present in the box to make up for the loss.
Cutting oil is necessary. Without it, they will wear off earlier than one expects. Cutting oil is important because it lowers the temperature and drilling is done smoothly.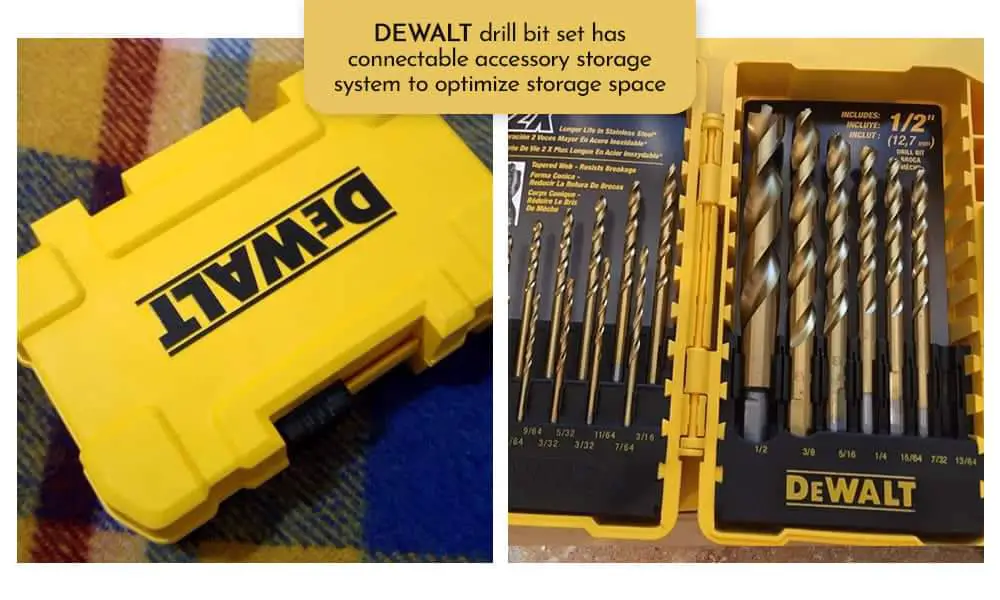 Remember to keep the speed slow and the pressure low. High speeds are strictly restricted for drilling through metals. That is because high speeds heat up the bits and they become blunt.
Using the drill machine gently lessens the chances of your drill bit breaking. So, be careful with how much downward pressure you are applying.
One thing I must mention is that these are imperial. This set is a money savior. The price is very affordable and the drill bits, if used carefully, last long. I will avoid using these for aluminum since they don't pass through that metal well.
Besides stainless steel and hard surfaces, one can use these for wood too. Drilling through wood is a piece of cake for this product.
2. Comoware Cobalt Drill Bit Set
Comoware for its high quality Cobalt Drill Bits occupies a position on this list. These cobalt drill bits are M35, i.e., they contain 5% cobalt and are HSS. This tool cuts through hardened steel smoothly.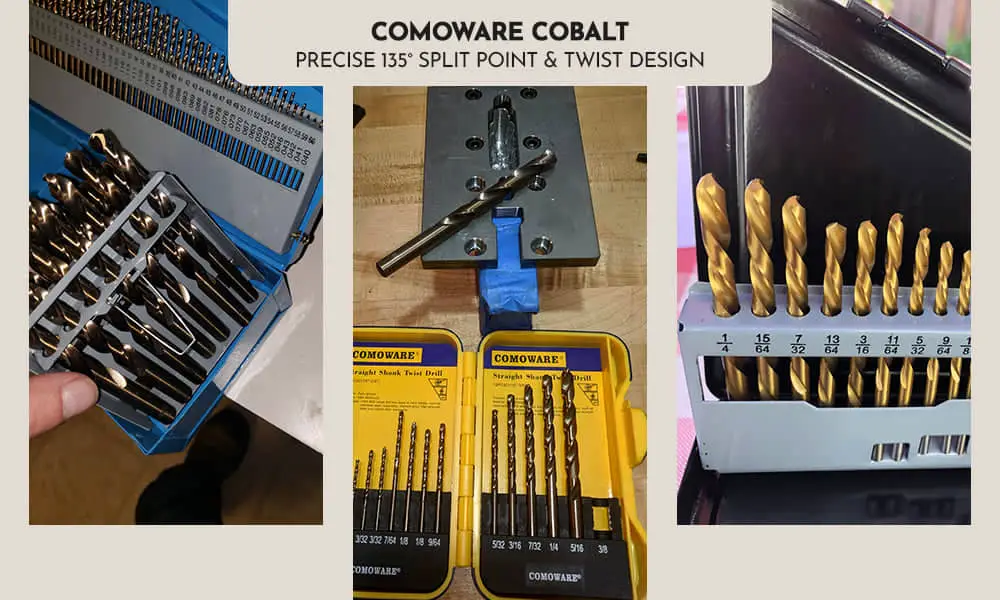 You can pass these through 1/8" steel and they will still outperform the ones you have used before. The most common complaint received is the overheating of drill bits.
The main cause of that happening is high speed. The speed must be kept slow at all costs. Using cutting oil, as mentioned earlier, will make the job easier for you.
The shank type is round and the cutting angle is 135 degrees. Which means that walking will not be an issue anymore.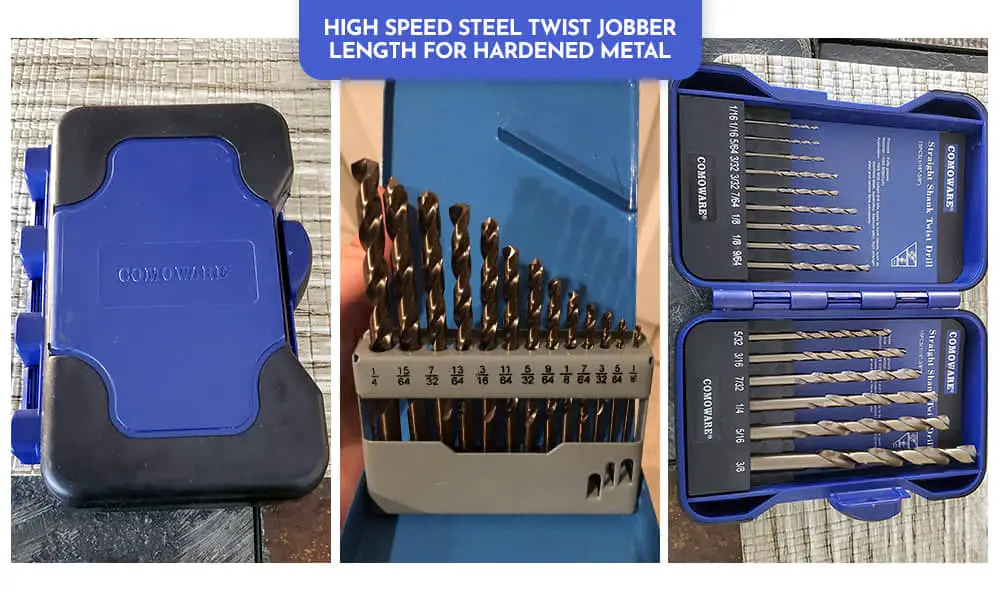 Metals like cast iron, stainless steel, alloys, etc. are tough but this product works for each one of them. That is because these bits are twisted. Wooden, hard plastic and soft materials can also be drilled through smoothly.
I also like the abrasion resistant property of this tool. The metal is not damaged at all in the process.
You can drill holes of different diameters and not worry about any harm to your tool OR possessions.
3. Makita Impact Gold Titanium Drill Bit Set Hex Shank
Makita Impact Gold Titanium Drill Bits are used in impact drills. Screwing through materials like wood and plastic is comparatively easy. Building holes in metals like steel, iron, etc. seems almost impossible.
These hex shank bits cut through metals at an angle of 135 degrees. Although you can't sharpen the tool but titanium nitride coating deducts the need to.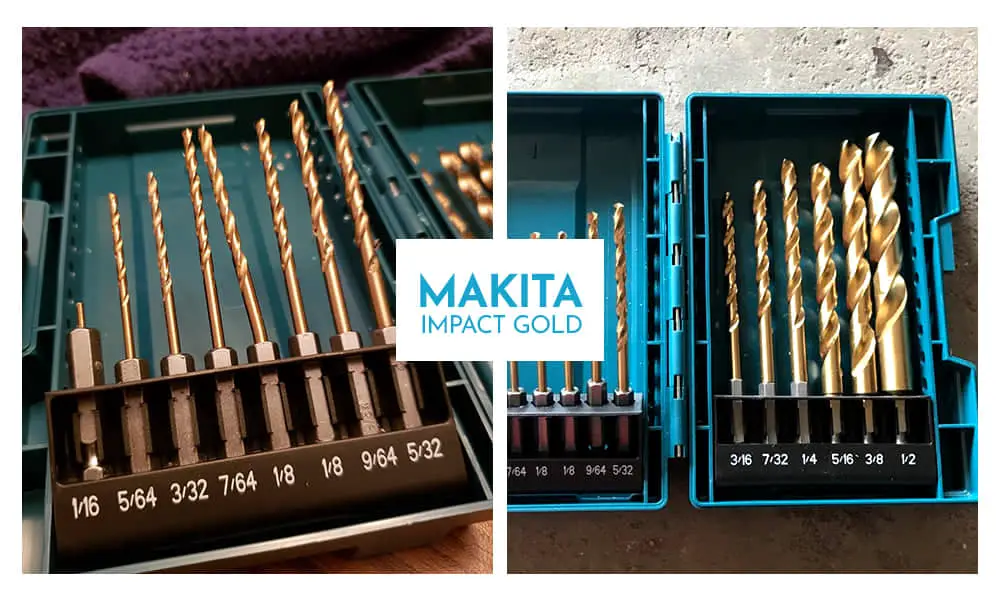 If you are a DIY'er and constantly use impact drills then this item is the best choice. Most bits can't function well for aluminum. But you can screw through that metal too using this product.
You can use this tool for any screw driving drill. These are made of stainless steel so the magnetic chuck can hold them well.
Walking is a common point at issue. But since these are made specifically for hard metals, they don't shake. You can also drill point holes in wood, plastic and softer materials.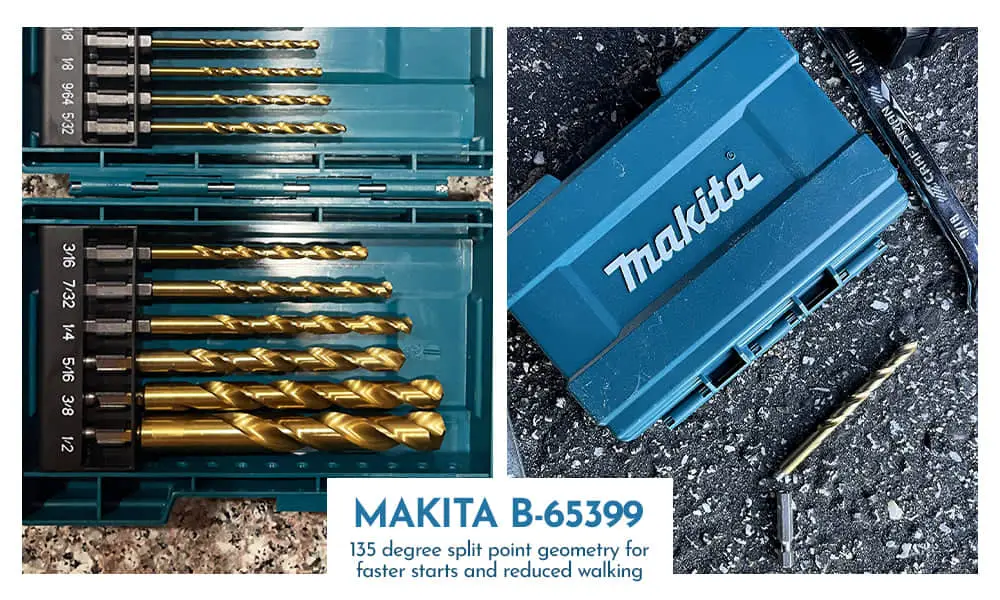 The case these drill bits come in is just a plus. Each bit is held firmly and you can pull one out from above. The coating is TiN so you know they will outlast other ordinary bits.
The price seems very affordable to me. There is a good variety of sizes as well – ranging from 1/16 to 1/2. This tool is very decent and highly recommended to crafters.
4. Bosch M42 Cobalt Drill Bit Set
Bosch has always been providing sturdy and long lasting tools. This set includes M42 Cobalt Drill Bits. Each bit contains 8% cobalt metal and stainless steel is also used.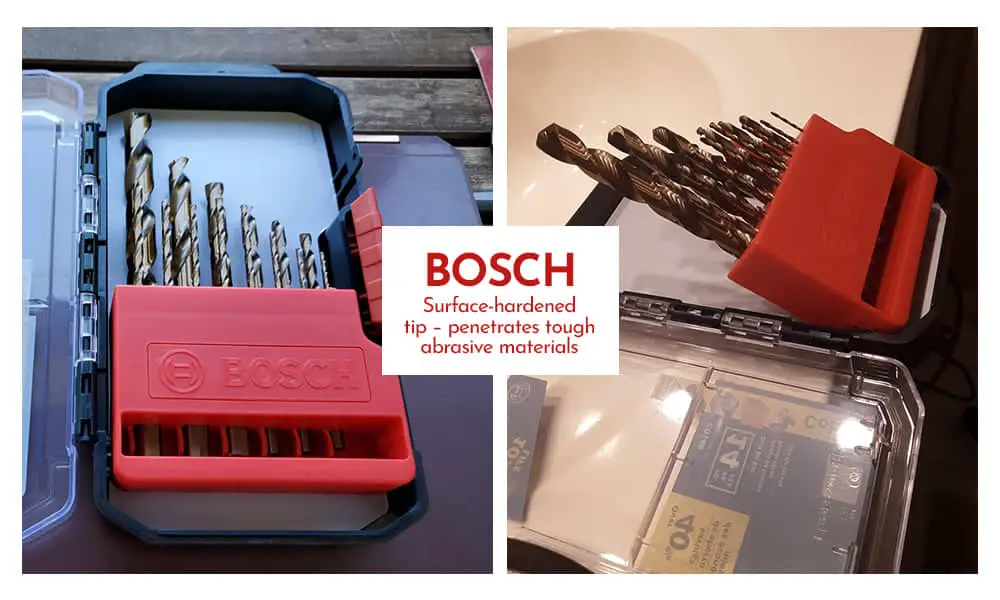 Higher cobalt percentage makes this product exclusively long living. Cobalt also makes the material heat resistant. So, these bits are not toning down soon. Still, careful use is important.
Shank type for this tool is straight so it'll be uncommon if it wobbles. Make sure you are holding the drill still in your hands. The variety of sizes is also great. They range from 1/16 to 1/2 inches.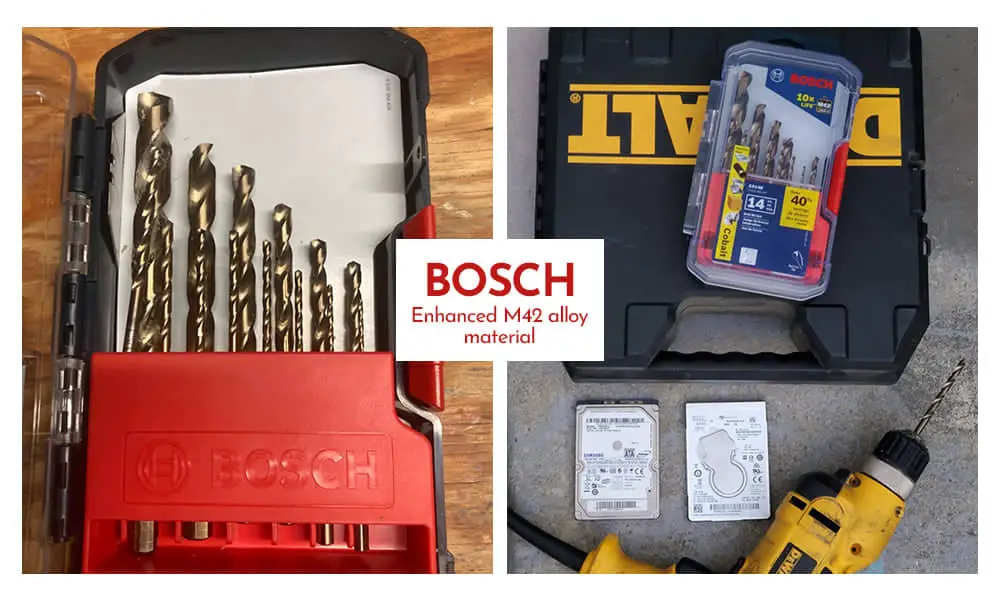 One drill bit can last for more than 20 holes. That just makes it clearer how sturdy these pieces of metal are. I will highly recommend this instrument for metals like steel, aluminum, cast iron and stainless steel.
This product works best for wooden and other soft materials as well. Drilling through windows, making pilot holes in your iron stands and creating holes for bolts in your vehicle, everything is doable.
5. DEWALT Black And Gold Drill Bit Set
The 5th one up on our list is Dewalt Black & Gold Drill Bit Set. These are made of steel and the shank type is 3-Flat. 3-Flat shanks reduce walking and drilling goes smooth.
Cutting angle is 135 degrees which means the bit will stay in chuck and won't budge. These twisted bits drill through steel, wood and plastic effortlessly. Their sturdiness is also guaranteed.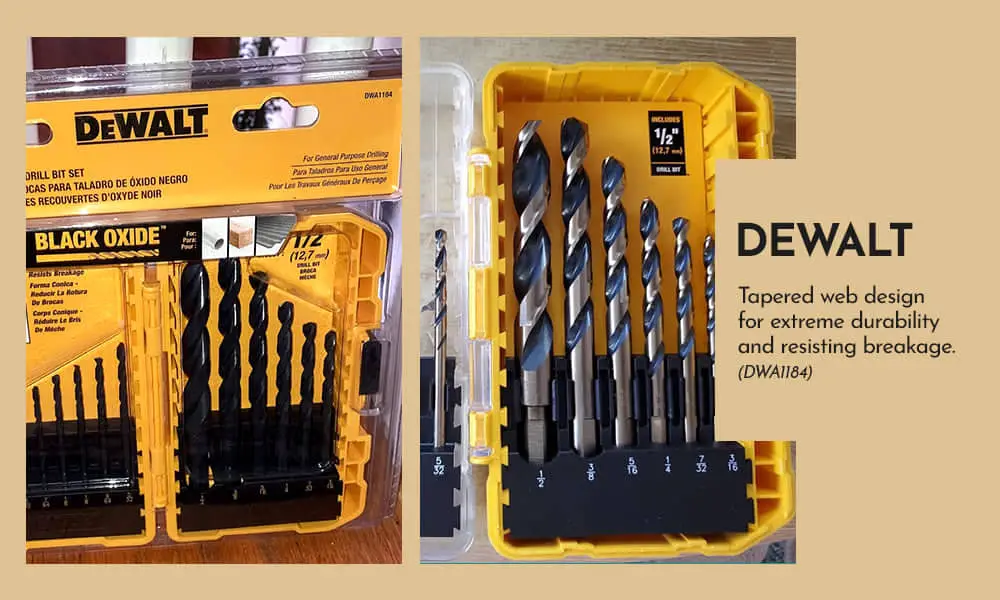 1/2" chucks and smaller ones are greatly compatible. Dewalt Drill Bits are manufactured for drilling regular holes. I won't recommend these for impact drivers.
You can also make holes in dry walls using this item. Avoid using your drill machine for bricks. These ones are High Speed Steel. Since they are black and gold, they work well for heavy duty metals.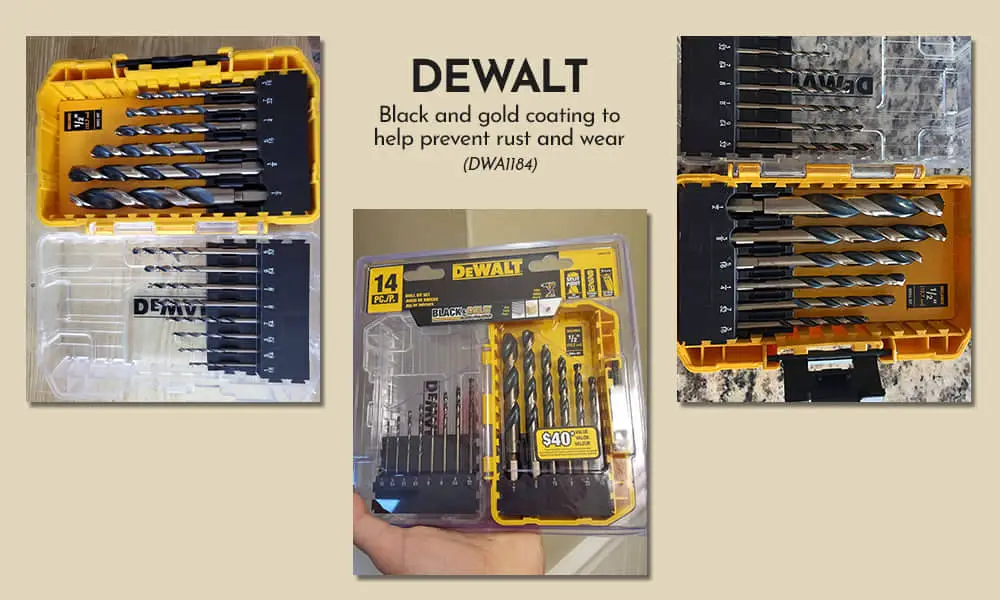 You can also get black oxide ones. These are heat and rust resistant anyways. But above mentioned precautions, like using cutting oil and maintaining a low speed, are must to take.
It is rare to get good quality bits at an affordable price. Now is the right time to bring better tools to upgrade your crafts a little.
In Conclusion;
Drilling tools that are heavy duty and last long can be rarely found. In this article, 5 best drill bits for metals are mentioned. How to use drill machines and bits better is also described.