About Makita
Makita is a globally recognized manufacturer that produces industrial power tools, power equipment, pneumatics, and cleaning solutions alongside a broad array of industrial accessories. Headquartered in La Mirada, California.
Makita U.S.A., Inc. manages a widespread distribution network throughout the United States. With over 50 years of operation in the U.S. and over 100 years of worldwide experience and expertise, Makita produces cutting-edge solutions that are second to none. To learn more about Makita U.S.A., call (800)4-MAKITA or visit makitatools.com.
New 18V LXT® BLUETOOTH RADIO LANTERN
Makita U.S.A., Inc., a renowned manufacturer of high-quality professional tools and accessories, is launching the latest addition to its product line-up, the Outdoor Adventure™ 18V LXT® Bluetooth® Radio, and L.E.D. Lantern (ADRM13), in La Mirada, CA, on February 23, 2023. The ADRM13 provides a versatile L.E.D. light with various modes and a wireless audio source that can connect to mobile devices via Bluetooth®, and it also comes with a built-in FM radio.
The Outdoor Adventure™ is an entirely new range of cordless products that operate within the LXT® system. These products feature cutting-edge technology that delivers maximum performance and efficiency for outdoor activities. Makita offers hundreds of products within the 18V LXT® system, giving users the flexibility to create their adventure.
Tyler Brown, the associate product manager for lifestyle at Makita U.S.A., Inc., described the Radio Lantern as the ideal centerpiece for any outdoor setting or campsite. Brown added that this versatile tool comes equipped with Bluetooth® audio, nine programmable FM stations, and four light settings, making it perfect for a wide range of applications and offering unlimited possibilities to create your adventure.
Features
Light and Sound in the Outdoors;
The Outdoor Adventure™ 18V LXT® Bluetooth® Radio and L.E.D. Lantern offers users a choice of four L.E.D. lighting modes: 360° lantern, 3-sided lantern, flashlight, or strobe flashlight. The ADRM13 also features two lantern brightness settings, ranging from 130 to 310 lumens. Additionally, it comes with three L.E.D. lighting color modes, including daylight white, neutral white, and warm white, allowing users to set the ambiance from reading to relaxation. With a 5.0Ah 18V LXT® battery (battery and charger sold separately), the ADRM13 can provide up to 16 hours of continuous illumination in 360° lantern mode.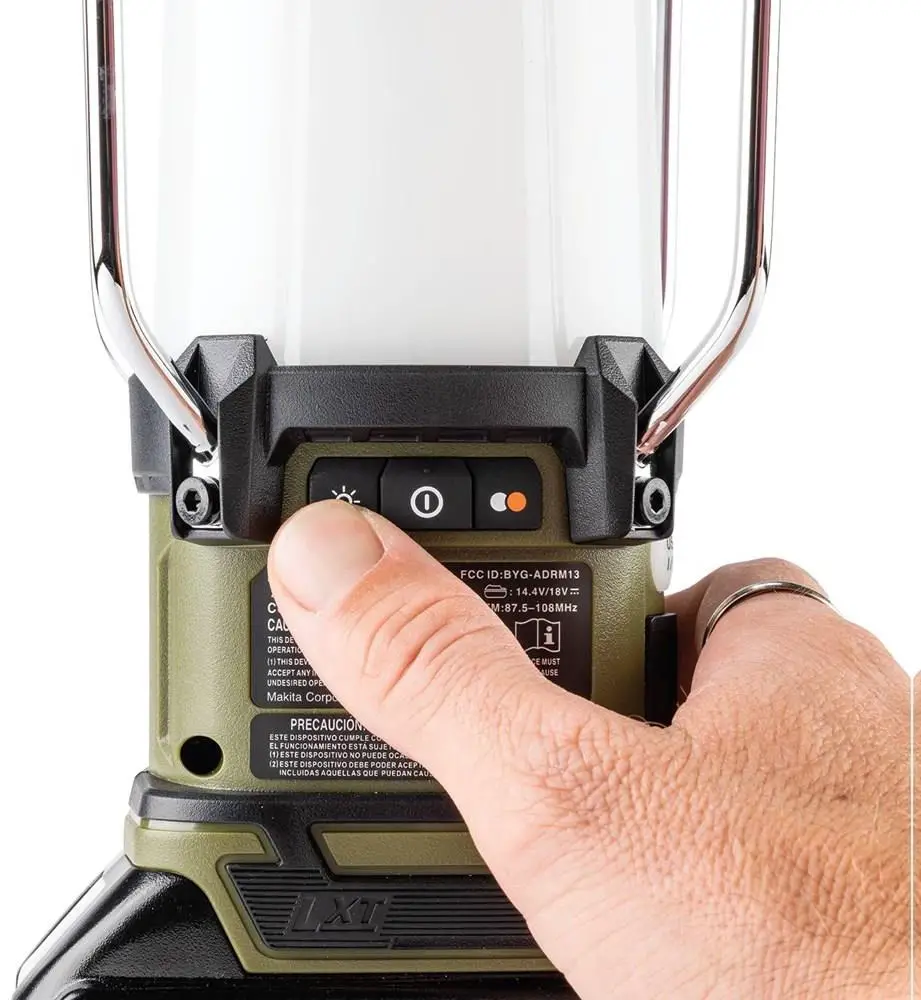 2. Convenience Features
The portable lantern has several convenient features that make it easy to transport and use outdoors. It includes a foldable metal hang hook and a rubber grip handle, allowing for effortless hanging or carrying. Additionally, the lantern guard doubles as an FM antenna. Its water and dust-resistant construction ensures reliable performance in outdoor conditions. The lantern weighs a mere 3.4 lbs. when the battery (not included) is attached, and it measures only 11-3/8″ in length, making it a breeze to pack and take with you on the go.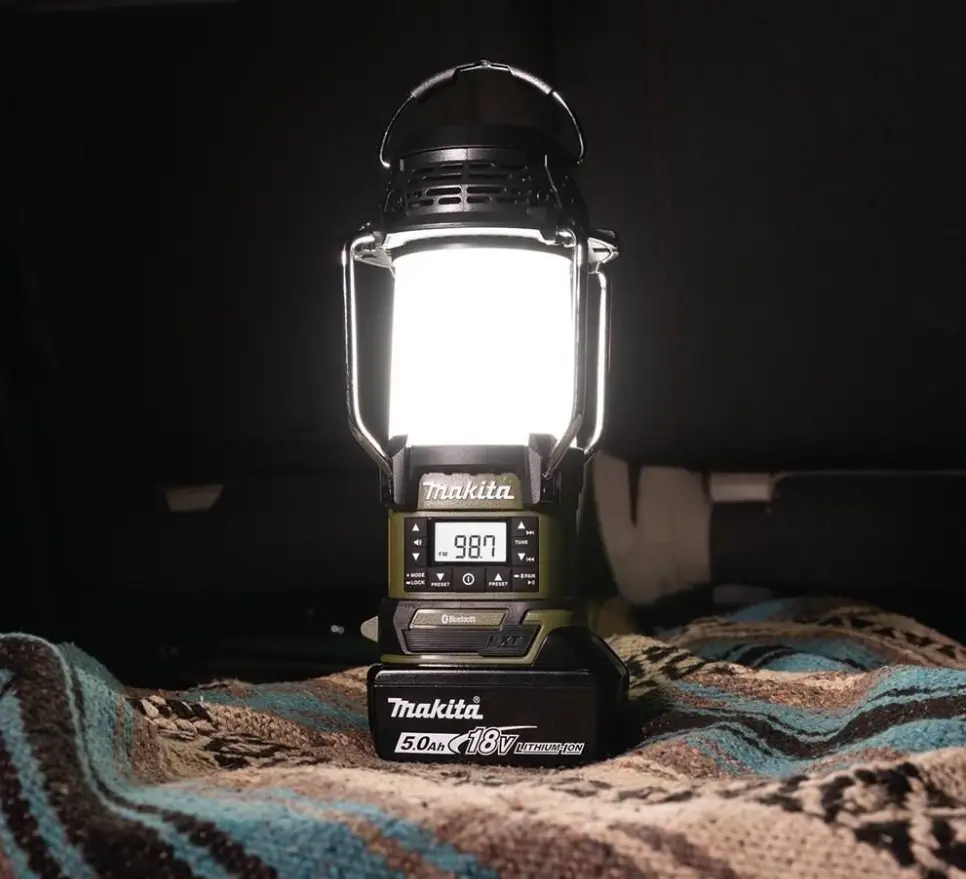 3. 18V LXT® System
With the LXT® System, users can easily transition from power tools to outdoor power equipment using the world's largest cordless tool system powered by 18V lithium-ion slide-style batteries. The system's purpose-built motors, advanced battery technology, and enhanced communication capabilities work seamlessly together to deliver unparalleled power, speed and run time. No matter what trade you work in, the LXT® System offers solutions that maximize performance and efficiency, allowing you to get the job done easily.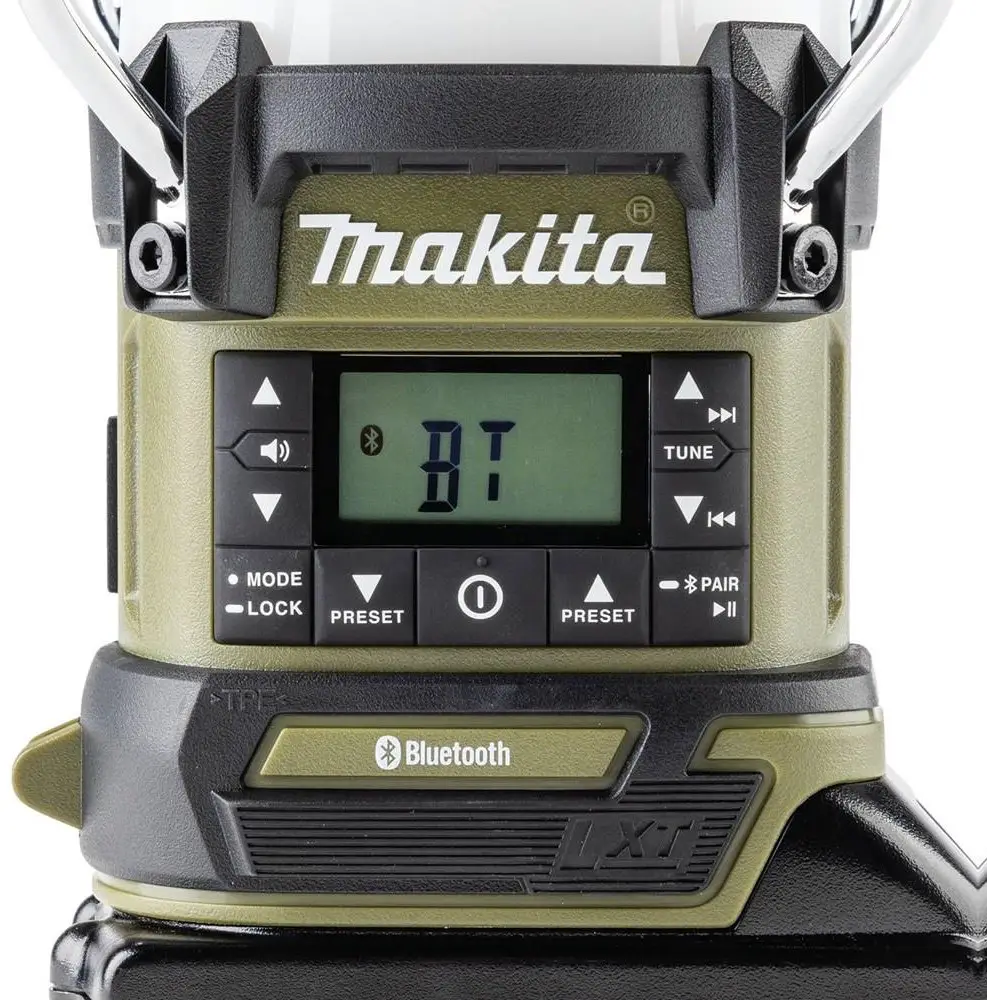 Specification Summary
| Description | Outdoor Adventure™ 18V LXT® Bluetooth® Radio and L.E.D. Lantern |
| --- | --- |
| Platform | 18V LXT® |
| Power Type: | Cordless |
| Run Time (Lantern and Radio) | 12 Hours |
| Lumens (high/low): | 310 / 100 lm |
| Bulb: | 20 LED |
| Total Length | 11-3/8″ |
| Battery (5.0 AH) | 18 v |
| Net Weight (with battery):  | 3.5 lbs. |
| | |