The M18 FUEL™ High-Speed Chain Snake (2819-22) is a powerful tool designed to descale pipes ranging from 1-1/2" to 4". It delivers instant setup and the power to descale up to 75' out, delivering full power at maximum distance. The Chain Snake offers the easiest, most controlled wall-to-wall clean, featuring an infinitely variable speed, electronic foot pedal, and mechanical clutch.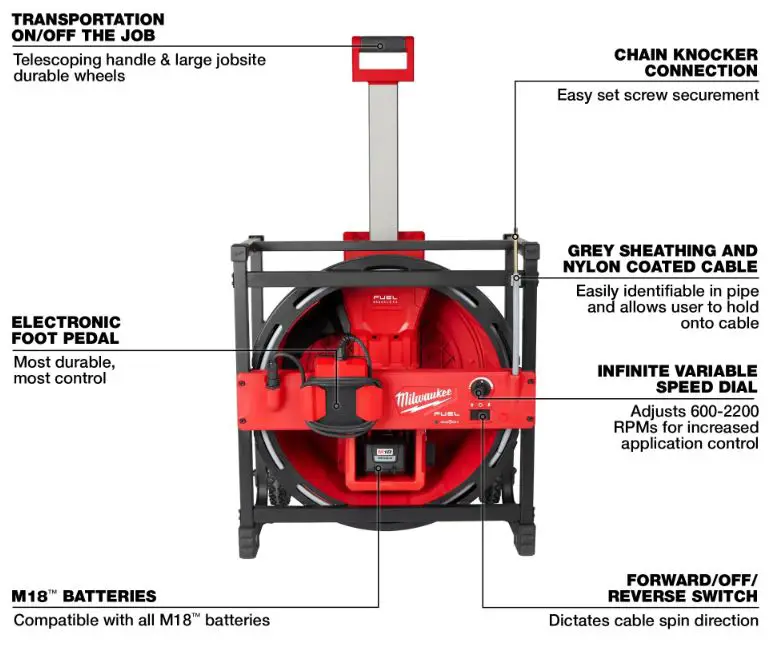 This tool eliminates the need for extension cords, electrical outlets, and unreliable drill connections, providing access to power anywhere. The included (2)* M18™ REDLITHIUM™ High Output™ HD 12.0 Battery Packs allow the Chain Snake to clear 150' scale build-up per charge.
The tool has 1-1/2", 2", 3", and 4" standard chain knockers to clear grease and soft blockages. Additional accessories, such as carbide heads for various pipe sizes and a grease penetrating head, are also available.
With the M18 FUEL™ High-Speed Chain Snake, descaling pipes has never been easier or more efficient. Its powerful performance, ease of use, and versatility make it an excellent choice for professionals who need to descale pipes quickly and effectively.
The Tool Includes: (2819-22)
(1) M18 FUEL™ High Speed Chain Snake for 1-1/2" – 4" Pipes(2819-22)
(1) 1-1/2″ Standard Chain Knocker for 5/16″ Chain Snake Cable(48-53-3020)
(1) 2″ Standard Chain Knocker for 5/16″ Chain Snake Cable(48-53-3021)
(1) 3″ Standard Chain Knocker for 5/16″ Chain Snake Cable(48-53-3022)
(1) 4″ Standard Chain Knocker for 5/16″ Chain Snake Cable(48-53-3023)
(1) 5/16" x 75' Chain Snake Cable(48-53-2819)
(2) M18 REDLITHIUM™ HIGH OUTPUT™ HD12.0 Battery Pack (48-11-1812)
(1) M18™ & M12™ Rapid Charger(48-59-1808)
(1)Hard Case(20)Stainless Steel Set Screw
(1)Hex Key(1)High Speed Chain Snake Lubricant
(1)Extra Sheath Segment