Once I got a few hand towels for myself, but there was no place in my washroom to place them. So, I got a set of floating shelves. Once they got delivered, I soon realized I needed to drill into my washroom tiles. Well, that never happened.
Looking for a no drill solution can come in handy for multiple reasons.
You don't have a drill.
Or you don't want to ruin your wall's paint, wallpaper, tiles, wooden panels, etc.
You are living on rent and want to avoid repair costs when you are leaving
Before you proceed to the list of best no-drill wall shelves, let me explain a few things:
How do no-drill shelves work?
There are only TWO ways a no drill shelve will be attached to a wall.
Via high-quality double-sided glue tape
Via suction cups
There is no other solution to this problem.
However, a third way is kind of a no-drill but will still affect your wall. And that is using self-screwing nails for which you only need a screwdriver.
What surfaces support no drill shelves?
In theory, you can apply these no drill shelves anywhere you want, but there are a few limitations.
Best Surfaces
Best Surfaces
Smooth Solid Metal
Tiles
Solid Wooden Wall
Glass Surface
Marble
Smooth Cement Wall
Not So Good
Wallpaper Wall
Painted Wall
Rustic Tiles
Lime Wall
You should avoid wallpaper, painted, rustic, and lime wall surfaces because they will either not hold properly or will ruin your wall once you remove it.
See what can go wrong in the image below if you apply them on the wrong surfaces.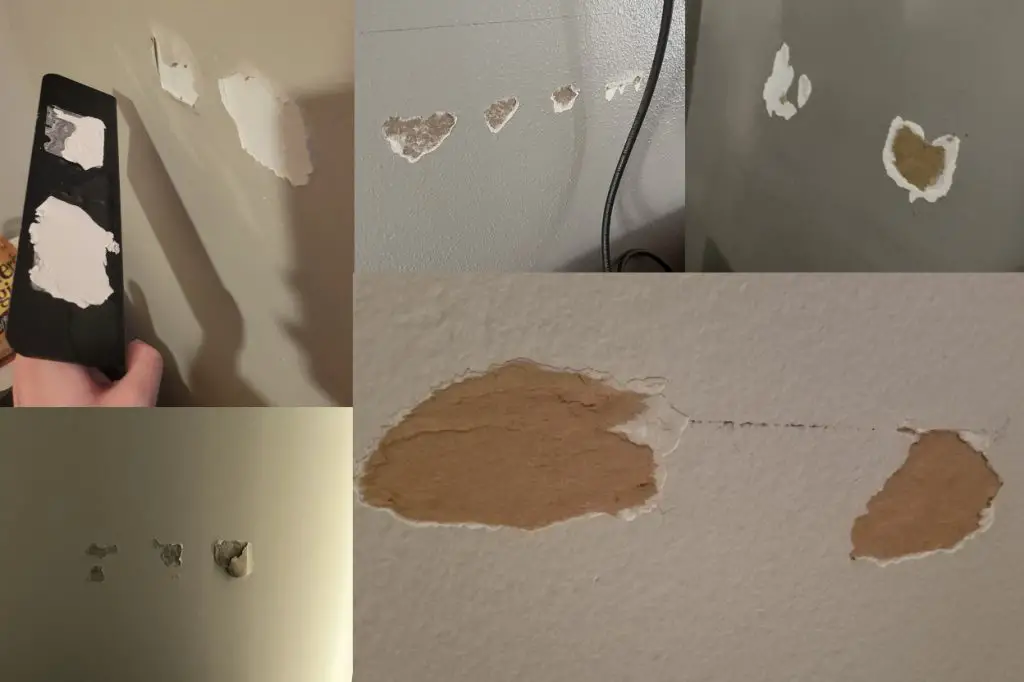 5 Best No Drill Wall Shelves
So, now let's proceed to the list of best no-drill wall shelves.
Here is the list:
Now let's dig into each of them and my recommendation on which one to buy.
1. OAPRIRE Acrylic Floating Wall Shelves (Pair of 2)
So the first no drill wall shelf on my list is this acrylic all-black and all-white floating wall shelf. It's lightweight, strong, and beautiful.
It will complement bright and dark color surfaces and walls.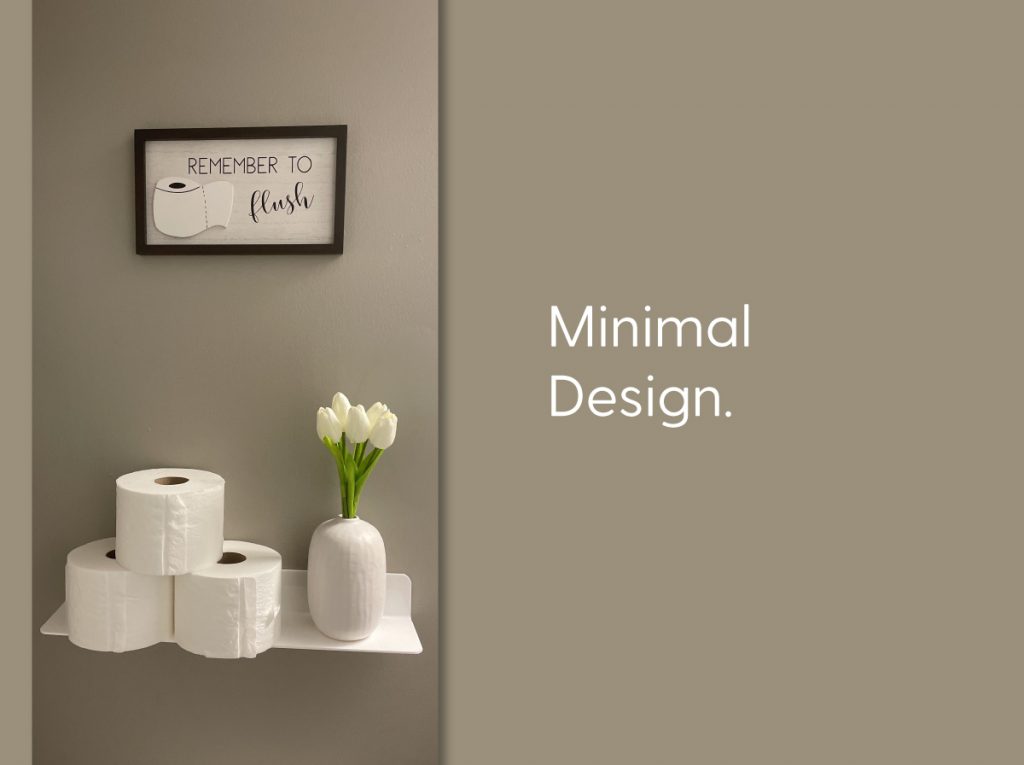 It's an adhesive shelf and comes with a few patches of 3M double-sided patches.
What makes this one stand out on our list is its price, popularity, color, and a hole-in center for wires (In case you plan to place a speaker or something).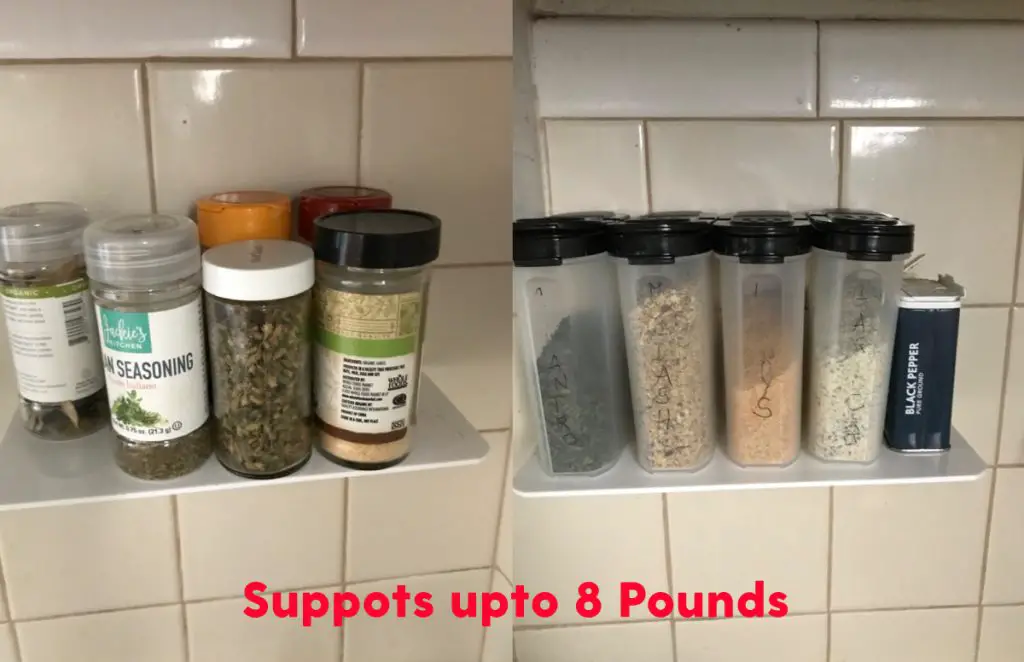 So, OAPRIRE floating wall shelve is for you if it matches your style.
Editor's Choice
Easy to install by using five 3M adhesive strips

Easy to remove with a hair dryer

High quality and low weight

Can support up to 8 pounds of weight
2. QsQueen Floating Wooden Shelves (Set of 3)
This minimalist yet stylish wooden shelf is the second no-drill self-adhesive floating shelf on my list.
The best part about these is the wooden touch and hanging feel. It can make your bathroom, living room, or bedroom look drastically beautiful.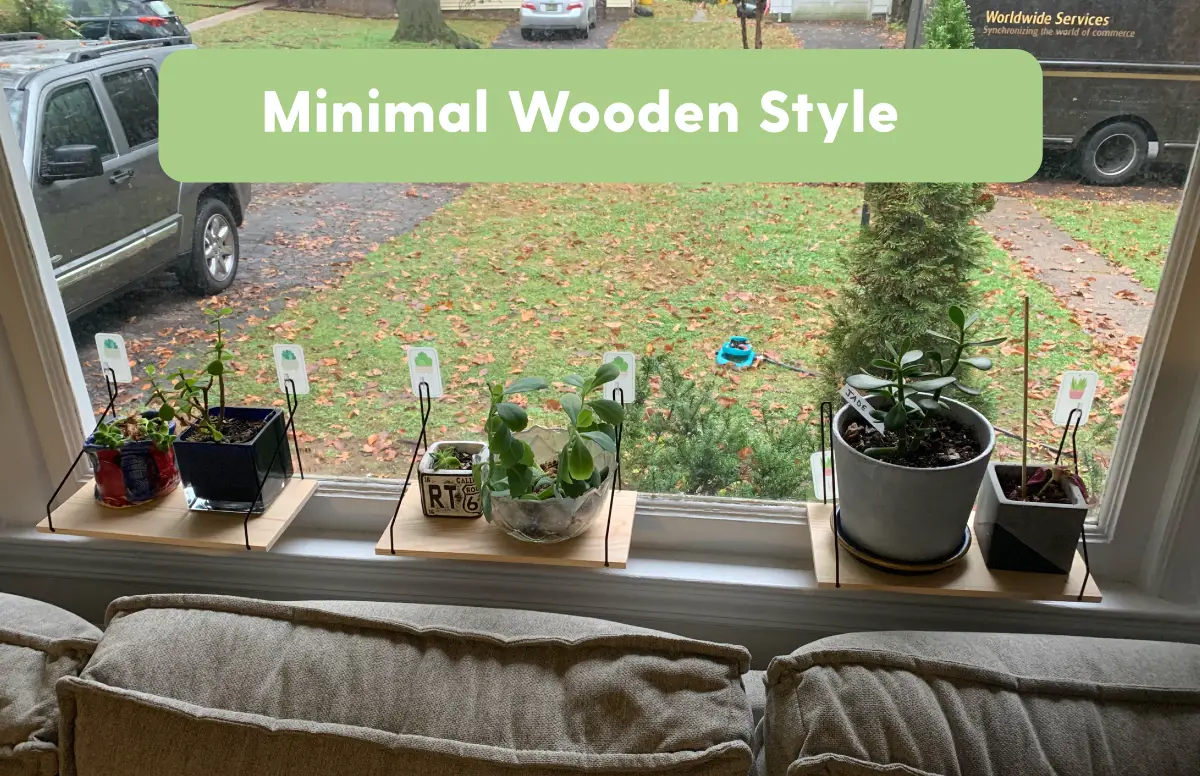 Besides being minimal, it's highly practical. The thing which makes it better than the previous acrylic one is its size and the weight it can support.
These shelves can support up to 10 pounds.
However, I am not a fan of the adhesive patches, which are very prominent and do not look clean.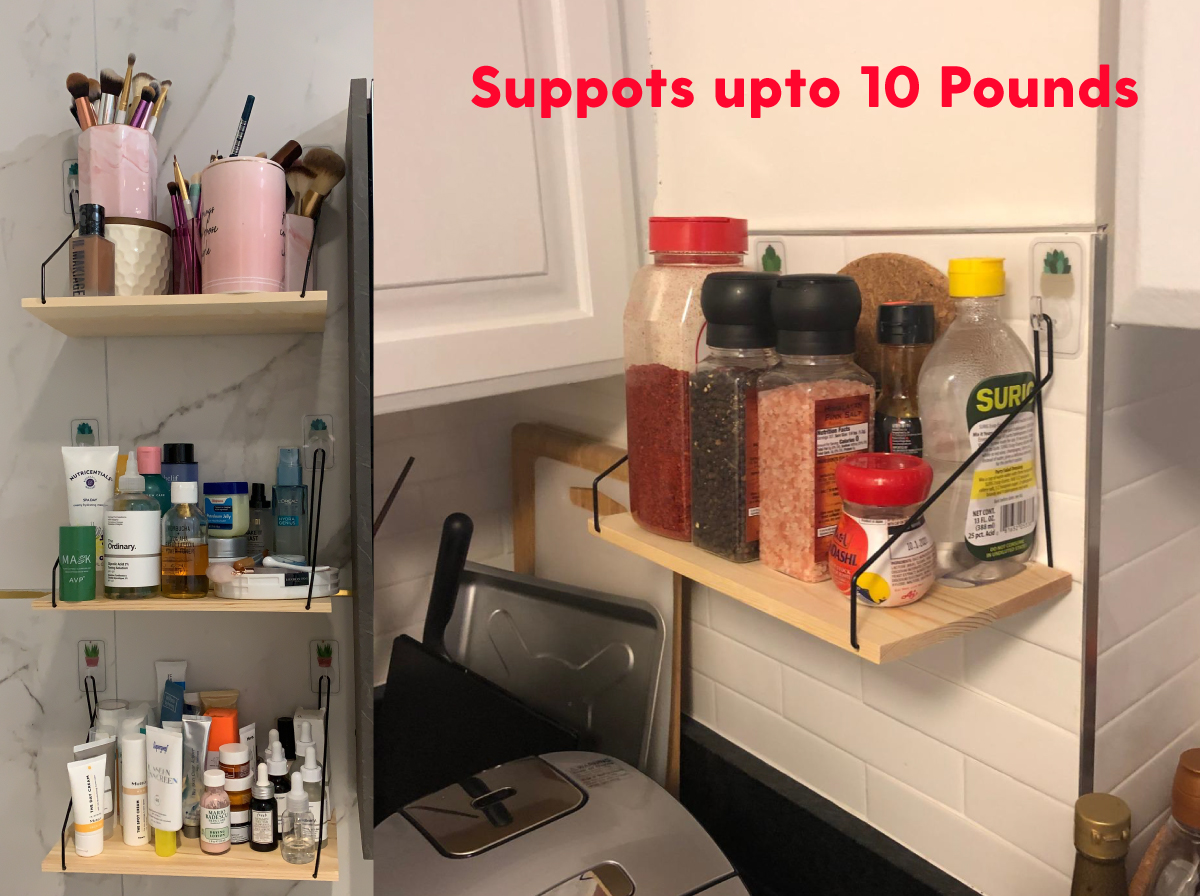 Most Beautiful
Set of three

Wooden shelves and metal hangings give it a minimal feel

Easy to install and assemble

Almost a foot-long size

Comes with hooks and adhesive strips

Easy to remove
3. OMYSA Hanging Shelves for Wall (Set of 2)
Ok, so the third one on our list is these beautiful hanging shelves which are a little expensive but very premium looking.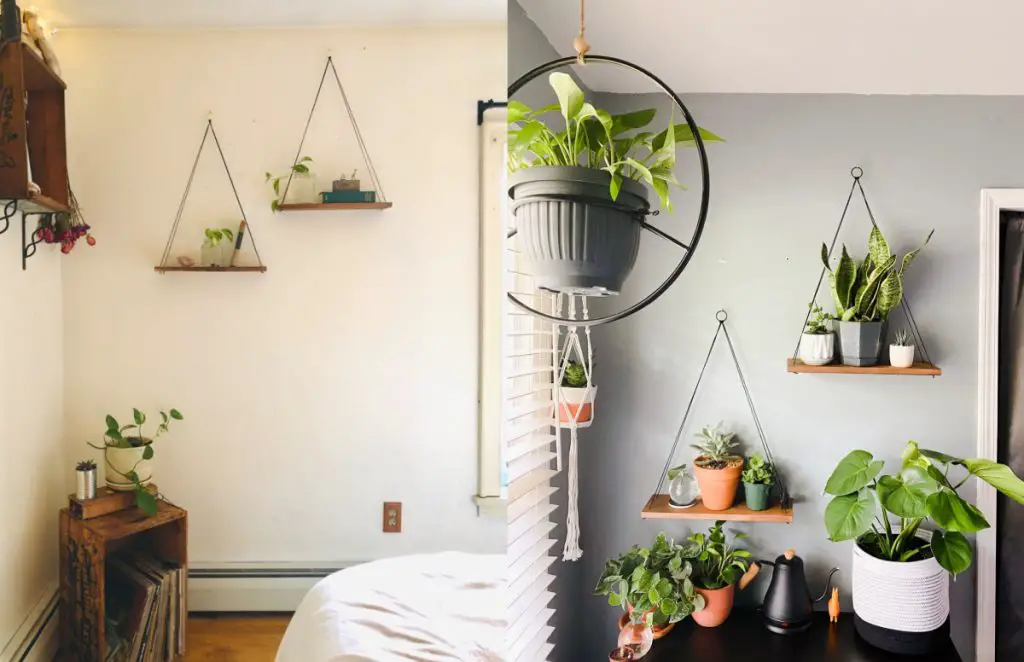 DISCLAIMER: These are not DRILL FREE. However, you can use a screwdriver to drive the provided screws in a wooden panel. If you still don't want to ruin your wall, buy these hooks.
These hanging shelves are large (17.5 inches long and 5.5 inches wide). They can support a weight of up to 10 pounds.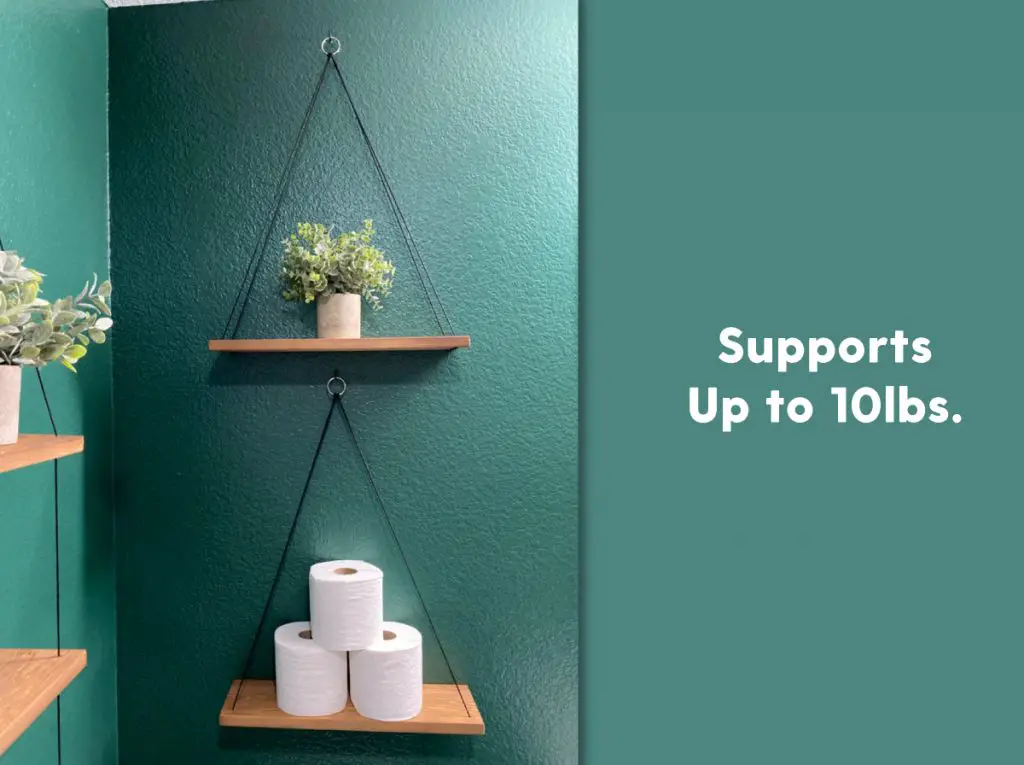 These shelves come with three different color rings to choose from according to your style and fit. The strings are strong, black, and look fabulous on the walls.
These shelves look amazing with plants and minimalist accessories. However, I won't recommend books as the hanging strings make it hard to fit in square objects.
Not 'NO-DRILL' But Cute
Beautiful design, chic and high quality.

Large size (17.5 inches Lenght and 5.5 inches Width)

Willl need self-adhesive hooks if you want to avoid drilling

Supports up to 10 lbs of weight

Strong strings

Comes in 4 different wood colors and 3 pairs of rings (gold, silver, and black)

A nice gift item
4. Laigoo Adhesive Floating Shelf Wall Shelf
These no-drill wall shelves are mainly designed for washrooms. These shelves have a small width, considerable length, and sturdy look & feel.
The small width makes it ideal for small bathrooms.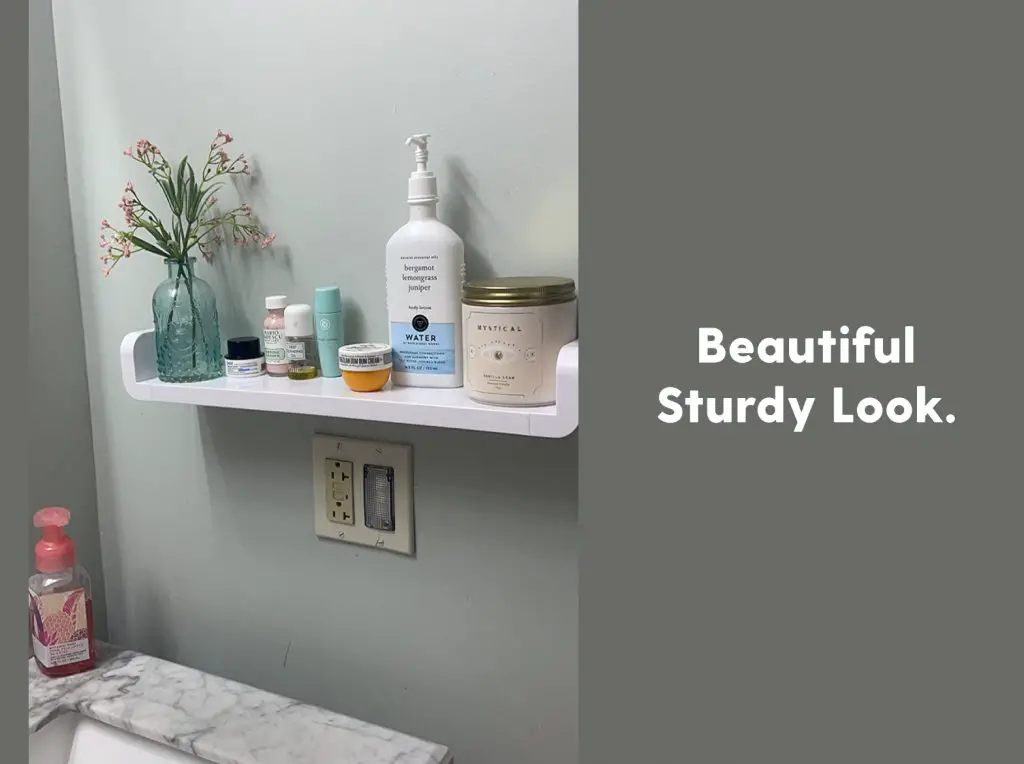 You can buy them in three different sizes, allowing you to choose according to your needs.
One thing I don't like about these is the patch being visible on bright walls and surfaces. The adhesive patch does not look beautiful and makes it obvious.
Other than that, these are awesome. Supports up to 11 lb (5Kg) of weight.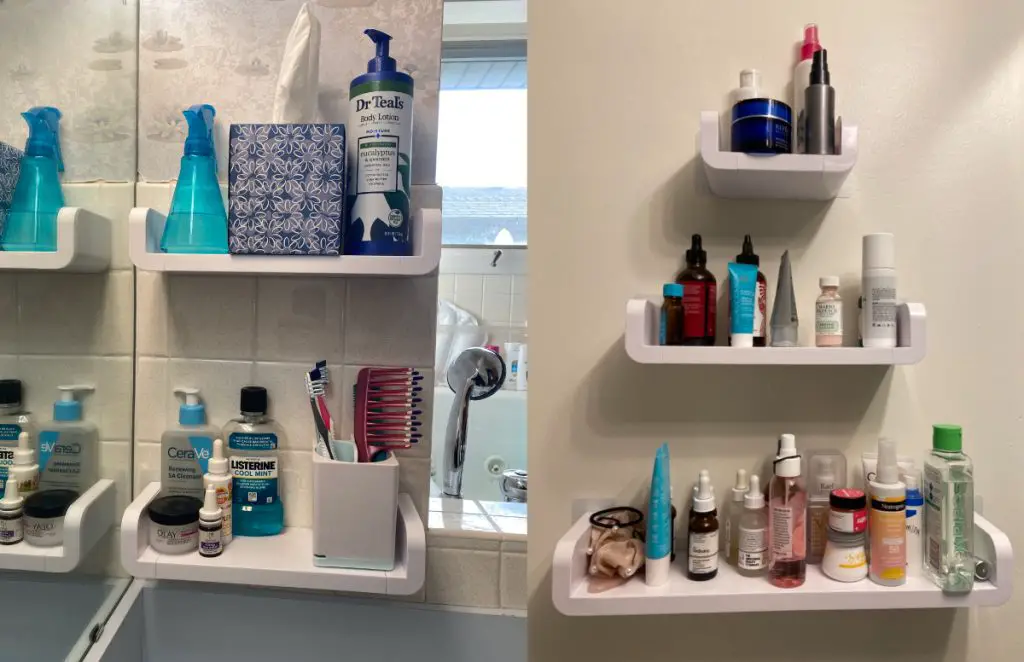 Another downside of these shelves is that they are a little expensive if you order the complete set.
Sturdy Design
Designed for bathrooms with larger lengths and smaller widths.

No-drill design. Comes with adhesive hooks.

Easy to install and remove

Sturdy and minimal feel

Made of high-quality plastic

Rustless design
5. ODesign Adhesive Steel Bathroom Shelf Organizer (Pack of 2)
This gorgeous all-steel mesh rack is the last no-drill self-adhesive wall shelf on our list. The steel rack makes it particularly ideal for a place near sinks and showers.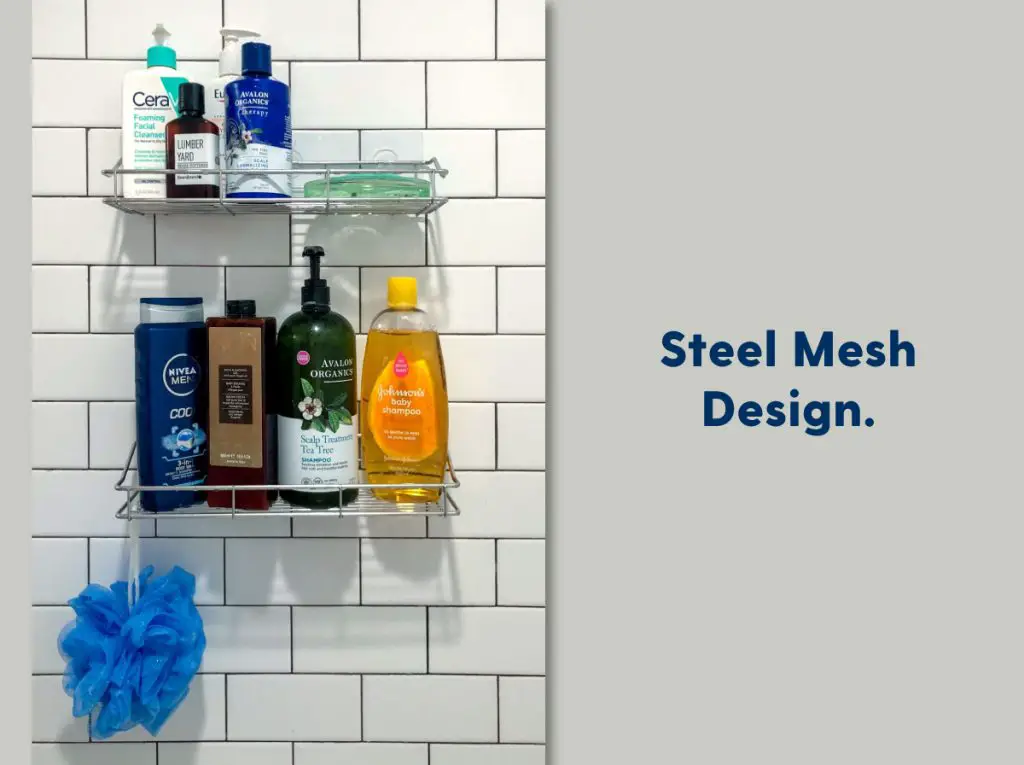 If your bathroom or kitchen is small and you are looking for a rack that does not create water puddles inside them, then this is the perfect choice for you.
Like all of our other recommendations, this one also does not need a drill and comes with self-adhesive patches for an easy and quick installation.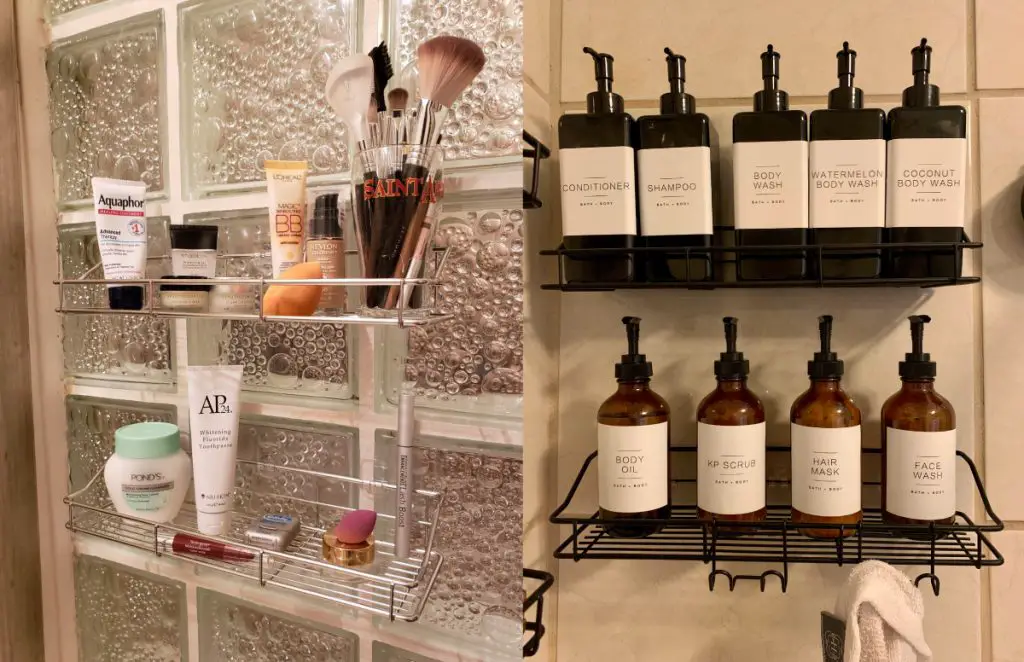 These shelves come in two colors. Silver and Black. I like the black versions as they have hanging hooks for towels and stuff.
These shelves can support a weight of up to 8 pounds.
Steel Mesh Design
Detachable design
Easy to install and remove
Premium-grade SUS 304 stainless steel, waterproof, and rust protection.
No-drill Adhesive patch design
Pack of two and comes in two colors (Silver and Black)
Conclusion:
In the end, all of these no drill shelves I have recommended are very different, so there is no winner or loser.
These are great options, and I recommend selecting one according to your taste and usage.
Additional Read: