Milwaukee Tool is a top-tier producer of robust power tools, hand tools, and accessories intended for professional users across the globe. Since its inception in 1924, the company has consistently set the industry's benchmark for durability and performance. Milwaukee Tool remains at the forefront of the market by staying dedicated to the trades and striving to offer inventive solutions tailored to specific trades.
M12™ PACKOUT™ Area Light with 1400 Lumens
The M12™ PACKOUT™ Area Light is Built Tough to Endure Harsh Conditions and is IP54 Rated for Water and Dust Resistance.
With its TRUEVIEW™ High-Definition Output*, the M12™ PACKOUT™ Area Light can emit a maximum of 1,400 lumens and offers three different modes to adjust the light output and run-time to suit the job requirements. When paired with an M12™ 4.0 Ah battery pack, the light can operate for up to 12 hours. Additionally, the M12™ PACKOUT™ Area Light is designed to be compatible with all PACKOUT™ solutions and can be easily stacked on top of other PACKOUT™ products, boosting efficiency on the worksite.
The PACKOUT™ light can be used with any existing PACKOUT™ stack, regardless of whether it is turned on or off.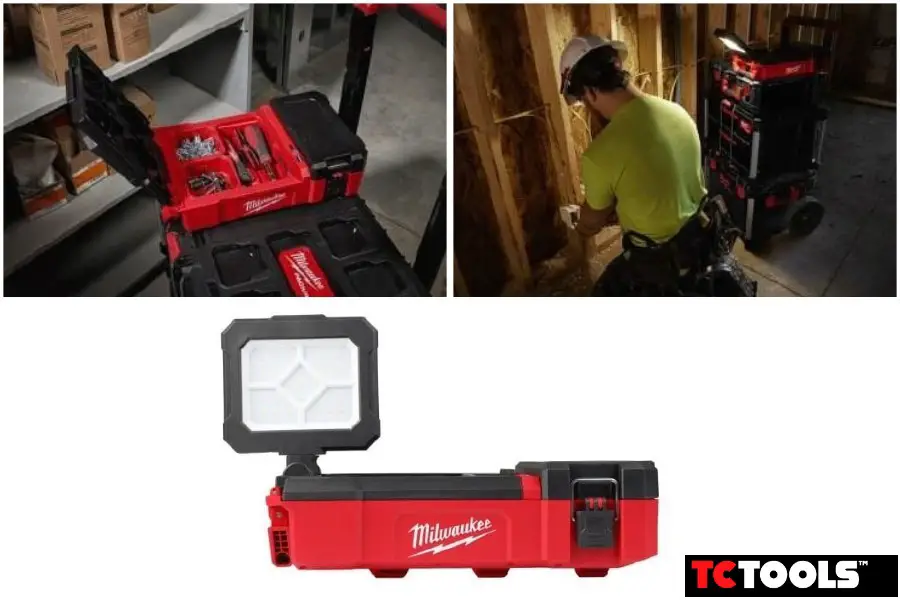 The M12™ Cordless System, the most comprehensive sub-compact system available, emphasizes delivering exceptional durability and power in cramped spaces. The newest addition to this line-up is the M12™ Packout™ Area Light, which boasts 1400 Lumens. Currently, the M12™ System comprises over 100 solutions.
Specifications
M12™ PACKOUT™ Area Light with 1400 Lumens
Battery type:
Lithium-ion
Battery system:
M12™
Bulb Type:
LED
Max Light Output:
1400 Lumens.
700 Lumens
350 Lumens
Max Run-Time on (M12 B4):
4 hours
7 hours
12 hours
Weight with Battery Pack:
6 lbs.
M12™ PACKOUT™ Area Light with 1400 Lumens