Who knew that removing a dresser drawer can be a whole lot of an excruciating task? Especially the ones that come with a center metal slide that doesn't move. Well, I can't tell you how I managed to get mine out only to realize there was a much simpler and easier technique to remove a dresser drawer with center metal slides.
Here is a simple list of steps you need to follow to Remove Dresser Drawer with Center Metal Slides

Step 1:  Make sure, to begin with, the top drawer to ensure safety.
Step 2:  The drawer needs to be pulled directly towards you without pulling it to one side. That's why you need to stand directly at the front.
Step 3:  Open the drawer as far as possible and look for the track levers on each side.
Step 4: Now, use both hands to pull one lever up and the other all the way down.  
Step 5: while still holding the levers, grab the drawer outwards, and it should come off easily. 
What is a Centre Mount Drawer Slide?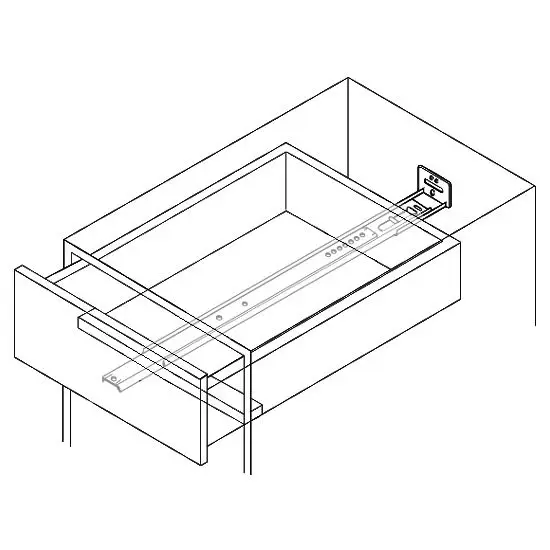 Centre Mount drawer slides are basically installed underneath the drawer centers for light applications. These are extremely handy and are used for the drawers that are light weighted. As the name suggests, you will always find the center-mounted slides in the center of the drawer.
When is a Centre Mount Drawer Slide Used?
A Center Mount drawer slide is used when the drawers have a face frame or a center frame for mounting. Mostly, you can go for it when the drawers are light in weight as they are mostly installed for the easy handling of the drawers.
How to Remove a Drawer with Center Mount Slide
Removing a dresser drawer with center metal slides is easier than we think. All it requires is the right amount of focus towards the sides of the drawer and no tools or materials.
To begin with, I would suggest you open the drawer to the full extent first and then check for the levers that you will find at the sides of the drawer. Mostly, the levers come in a straight or bent texture for the very reason of protecting the drawer from getting parted.
Next, grab these levers, lift the left side clip, and push the right-side clip down using your hands. It would help if you kept hold of this position until you pushed it entirely out. This way, you can easily remove the dresser drawer. Remember to stand at the front of the drawer so the process can run smoothly.
If the drawer does not come out, then the center metal slide might be damaged or broken. To tackle such a situation, open up the slide and take a putty knife and start running it along each side of the track.
Also, note that you can only go further with this technique if your dresser drawer does not have a stopper. Let me explain what I mean by this; sometimes, the drawers have a stopping tool inside them, known as a stopper. It basically does that; it will prevent the drawer from coming out and falling at some point completely. So, you will have to get rid of one of these first to continue removing your dresser drawer.
The key is to locate any semi-circular piece of plastic or a plastic flap that often hits the bottom back of the drawer and can be found easily through the sounds it makes. After locating either of these stoppers, you will have to apply a considerate amount of force while opening the drawer. This will eventually pull off the plastic, and the drawer can be removed by following the above-mentioned steps.
Precautions to take when you remove dresser drawer
Working with furniture and crafts may turn out to be a little tricky, and you might end up in a hazardous situation that can lead to several injuries as well. This is why I have gathered the most useful tips that will surely help you prevent such types of incidents, and you will be able to work without any hindrance. Read along to make sure you are safe the entire time.
Always wear-related protection gear before starting your work.
My favorite list of safety gear. You may not need all of them.

1. Dewalt Safety Glasses
2. Latex Double Coated work gloves
3. 3M professional Dust Respirator
4. Dewalt Industrial Grade Ear Protection
5. 3M Hard Hat
6. Caterpillar Steel Toe Industrial Boot
7. First Aid Kit
8. Fall Protection Kit
The first thing to remember when you are about to remove the dresser drawer is to always start from the top drawer and then go all the way to the bottom. This is because all the weight is more focused on the bottom drawers, and by starting from the bottom drawers, the top-heavy drawers can stumble upon you. However, if you are working with only one drawer, you can start with whichever one is stuck.
The second thing to keep in mind when handling the levers is to make sure not to let your fingers get stuck in the track overlapping while opening the door.
Now, this might seem obvious, but it's worth mentioning that before going ahead with removing the dresser drawer, you must empty the drawer and remove any material it contains. This is done so that the drawer becomes light weighted and will also prevent you from dropping anything.
However, in getting rid of a stopper, you must be careful not to pinch your fingers from inside the drawer.
Lastly, in the circumstances like when the drawer is broken or damaged, it is better to let the handyman take care of the situation to save you from any further inconvenience.
How to Put the Drawer Back
Now that you have completely removed the dresser drawer, it's time to put it back. Trust me; you will find putting the drawer back in far easier than removing it. Just follow the steps mentioned below, and you are good to go.
Step 1: To put the dresser drawer back into place, align the slides at the right position and insert the rail slides into the slides.

Step 2: Then, a little push will be enough for it to get inside completely. However, at times, it might take more than one push to go fully into the slides.

See, that's all it takes to put the drawer back into its place.
Conclusion
Although removing a drawer that has center metal slides might seem to be a tricky task at first. Still, after having gone through the article, you must have realized how easy and simple it is to work with a center-mounted metal drawer as there are no extra tools needed in this process and can be removed by absolutely anyone without any difficulty. Following these guidelines step by step should do the trick for everyone.
Additional Read: