Makita is a globally recognized manufacturer of industrial power tools, power equipment, pneumatics, cleaning solutions, and a wide range of industrial accessories.
Makita U.S.A., Inc. is headquartered in La Mirada, California, and manages an extensive distribution network throughout the United States. With over 50 years of experience operating in the U.S. and over 100 years of worldwide expertise, Makita is a leader in cutting-edge solutions. For more information about Makita U.S.A., contact them at (800)4-MAKITA or visit their website at makitatools.com
The new 40V max ConnectX™ Brushless Backpack Blower (model CBU02Z) has a high blowing force of 22 Newtons for the clean-up power equivalent to a 64cc gas-powered blower.
More Run Time, No Gas Hassles
The ConnectX™ System is a higher-capacity power source with 1,200 watt-hours of output. It is compatible with ConnectX™ products, including the new CBU02 Backpack Blower as well as the previously-released ConnectX™ 21" Commercial Lawn Mower, String Trimmer, and Handheld Blower. All are engineered for top performance and more work, but with lower noise, less maintenance, zero emissions, and no pull starts.
High Blowing Force and Long Run Time
The CBU02 is a cordless leaf blower with a brushless motor that delivers a high blowing force of 22 Newtons, up to 671 CFM, and 160 MPH for clean-up power equivalent to a 64cc gas backpack blower. It can run for up to 4 hours on a single charge of the ConnectX™ 1,200Wh Portable Backpack Power Supply.
Low Noise, Zero Emissions
Noise and emissions are top concerns among landscape contractors and the clients they serve, and the battery-powered CBU02 has a sound pressure rating of 60 dB(A) (measured per ANSI B 175.2 standard) and zero emissions. It has a tube-mounted variable speed trigger for power and run-time management and a cruise control setting for more comfortable continuous operation.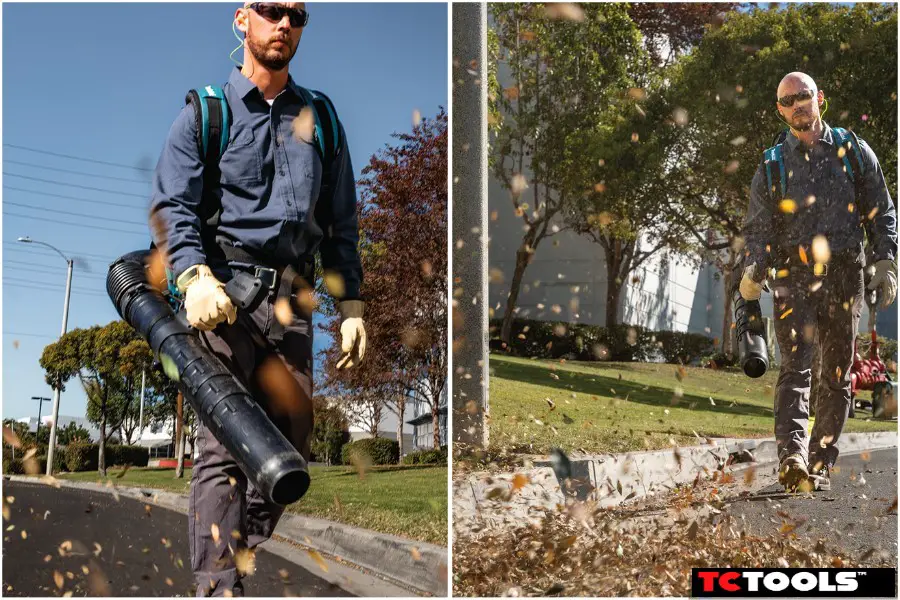 ConnectX Compatibility
Makita continues to expand battery-powered options with three systems of professional power equipment:
· XGT® 40V max | 80V max: The most powerful handheld solution for pro landscapers, with cordless equipment and tools engineered for applications that traditionally use cords, gas or air (125+ products in 2023).
· ConnectX™ 36V | 40V max: A run-time and power solution for professional landscapers seeking a gas replacement. The ConnectX™ 1,200 watt-hour battery is compatible with ConnectX™ products and 40V max XGT® and 36V (18V X2) LXT® products.
· LXT® 18V | 36V: The world's largest cordless tool system powered by 18V batteries (325+ Products in 2023), with an expansive range of 18V and 36V mowers, trimmers, blowers, chain saws, and more.