It is pretty standard that a screw holding a wood joint sometimes loses its position and stops holding the wood together for many reasons. It may be due to sudden stress on the joint that can cause the wood fibre to tear-free. It can also happen due to the over-tightening of screws. 
No matter what the cause is, the next step you will probably be thinking of is filling the hole and redrilling it because the last spot will not hold that screw again.
So, if a screw is freely moving in a hole and not holding its position, you can either use a larger screw or fill the hole with some wooden sticks like matchsticks after applying wood glue to it. Then re-screw after its dries out.
Can you screw into wood glue? Yes, you can only screw into epoxy-based wood glues once they are dry. You may have to drill a hole first as epoxies are very dense and can crack if you directly screw in them.
Filling a hole and redrilling is not as easy as it seems. The wood may get cracked while redrilling to fix the screw. Another problem with the redrilling is air bubbles that can get trapped inside the resin. If you try to fix the screw in the presence of air bubbles, then the screw will not fit properly.
Why is it not a good idea to drill screw into Wood Glue?
To drill into a wood filler is not a good idea because it is just for cosmetics, and it can not hold screws to its soft nature.

The screw will not fit tightly, and it will lose its strength very soon.

Here are five different ways to fasten a stripped screw in the hole and keep it tight firmly.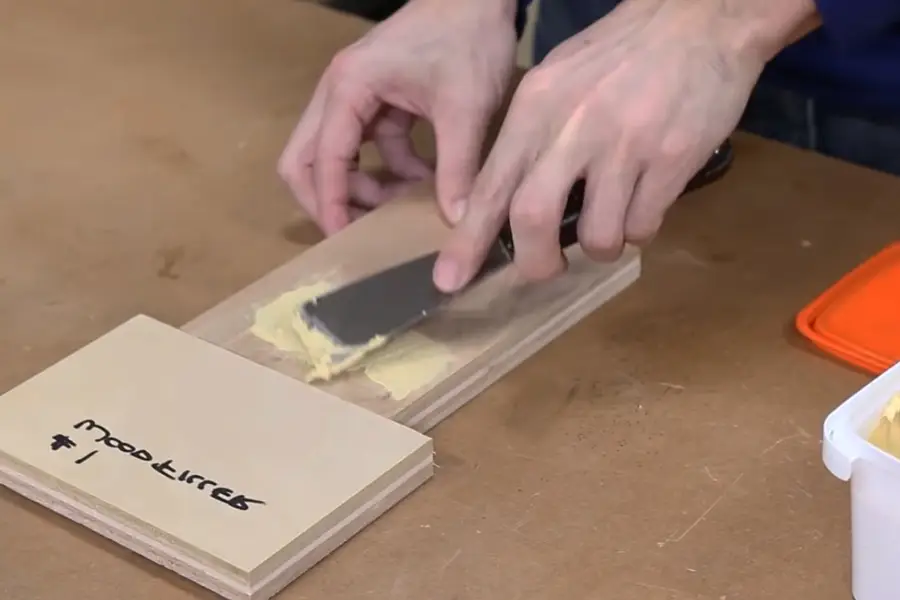 Method 1: Use A Larger Screw
The first solution to fix a stripped screw is to use a screw slightly larger in diameter and longer than the previous one. 
The new screw should have a higher gauge. For example, if the size of the last screw is #4, use a #5 or #6 screw to fit in properly.

Use a screw with coarser and aggressive threads so that it fixes firmly in the hole. 
Use a larger screw but make sure that the new screw is not too large to break the wood. Don't apply too much force while driving the screw in the hole. It can risk the strength of wood fibres near the screw.
Method 2: Using Matchsticks or Toothpick to Fix a Hole
You can not use a larger screw in every scenario, and sometimes, fixing the hole itself will be required. A great way of doing it is sticking in some toothpicks or matchsticks inside it with glue.

All you have to do is apply some glue to matchsticks with their heads removed and place them inside the hole.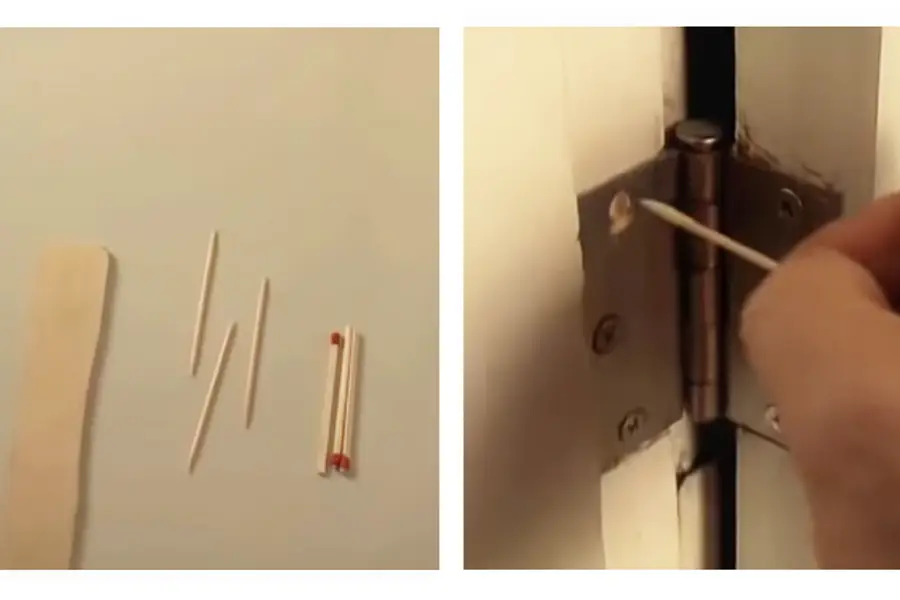 Let them dry for some time. Once dried, drive the screws inside the hole again.

Since matchsticks are relatively soft and won't need to be redrilled, they will provide significant binding friction to hold in the screws when compressed to a small space.
Method 3: Filling The Hole With Same Wood And Redrilling It
The best foolproof solution to a stripped hole is to fill it with a dowel and redrill it.

Use some strips of similar wood and dip them into the glue. Then force the wooden strips in the hole with the help of a hammer.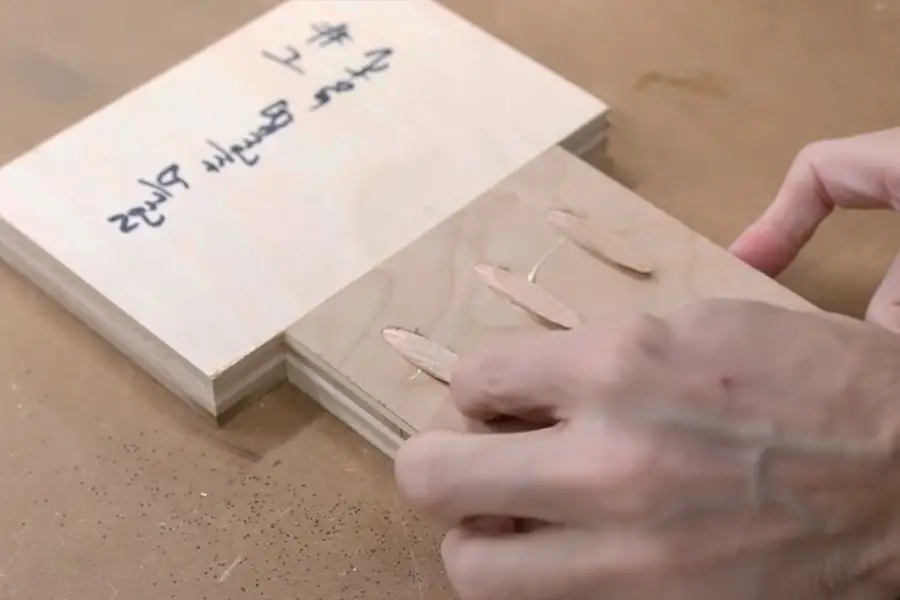 After the glue dries, drill a new hole in the wood and drive the screw in.

It is essential to use the same type of wood to fill the hole. If you use hardwood to fill the void into softwood, the hardwood will expand when you drive a screw in it, causing cracks.

Similarly, if the softwood is used to fill the hardwood, the wood will not hold the screw tightly. 
Method 4: Use Epoxy to fill the hole
Epoxy resin is an excellent option to fill the hole. It has excellent resistance properties and can hold screws firmly in the hole. Epoxy is also easy to handle. 

Fill the hole with epoxy and let it dry completely. Different epoxies have different setting times. I recommend using something that has a setting time of fewer than 24 hours.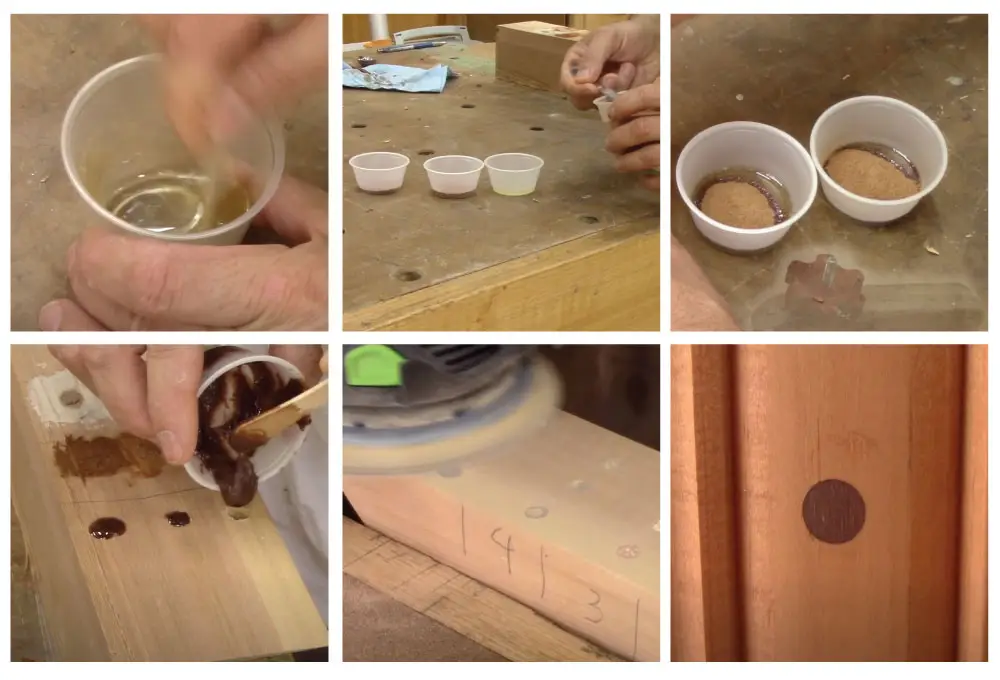 When the epoxy dries, use a drill to make a new hole and drive the screw into it. You can use a standard twist drill bit to make holes in epoxy.
Wood filler you can drill into
Wood fillers made with epoxy are the best to drill or screw. Epoxy fillers are also easy to file, sand, paint or fill a hole. A few good options are;

1. System Three 1-Quart SculpWood Moldable Epoxy Putty, 90301
2. Abatron WoodEpox Epoxy Wood Replacement Compound, 2 Quart Kit, Part A & B
3. Abatron LiquidWood 2 Pint Kit – 2-Part Structural Epoxy Wood Hardener and Consolidant Resin.
Below are a few other types of glue that can work but won't provide a firm grip on your screws.
Franklin Titebond Glue
Franklin titebond is waterproof wood glue. It is easy to use, and its most characteristic property is its resistance against water, solvent, and atmospheric changes. (Link to Amazon)
It provides strength to the wood and gives a hard texture to hold screws easily. 
Franklin titebond is the best option to fill holes in wood. It is non-toxic and easy to use; thus, it can be applied to cooking articles, like knives and cutting boards. 
Gorilla Wood Glue
Gorilla Wood Glue is an excellent glue because of its cross-linking bond formula. (Link to Amazon)
It is water-based glue, and it can be used for outside purposes due to its water resistance property. 
Gorilla glue takes only 20- 30 minutes as clamp time. It is ideal to use for projects which need quick drying. Gorilla glue will take 24 hours to attain a hard texture and dry properly. 
Another feature of this glue is its versatility that can be used for any type of wood.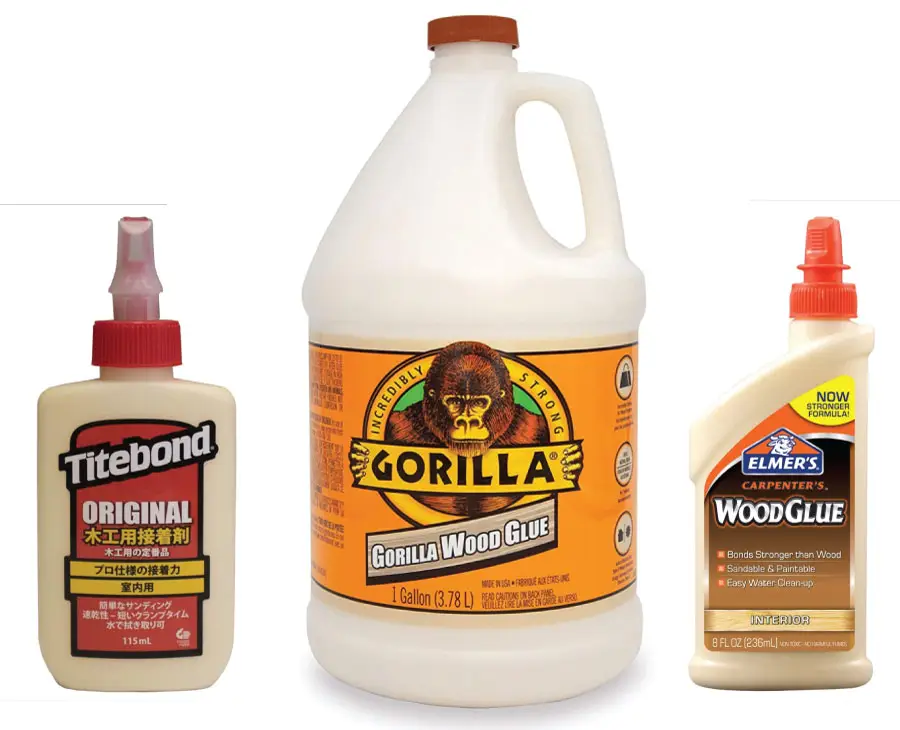 Elmer's Carpenter Wood Glue
Elmer's Carpenter Wood Glue is non-toxic, so it can easily be used without safety equipment like gloves or facemasks. (Link to Amazon)
It is designed to hold the screw firmly and is mainly used for hardwood due to its strength. Elmer's glue is even more potent than the wood and hence provides excellent stability to the screw.
Elmer's wood glue is easily paintable and does not produce any fumes. 
Filling Wall Hole For Screws
To fill a wall hole for the screw, you will have to use a joint compound like mud. Fill the hole with the help of a wall knife and letting it dry. Use sandpaper to level the hole with the wall. 
After the hole is filled, use a masonry drill bit to make a hole in the wall. Start drilling with a thinner drill bit and then make a proper hole. After drilling, drive the screw into the hole.
Recommended Drills
I have compiled a list of some great cordless tools you can select for your personal use. The variety is from both entry-level to full-blow professional cordless drills.

I will recommend getting an entry-level mid-range cordless drill to drill the screw into wood glue.
Related Questions
Can you drill into wood filler?
You can drill into the wood filler, but it does not give the strength to hold a screw firmly. 
Some types of wood fillers are easily drillable and can fix the screw in the hole. These wood fillers include two-part epoxy wood fillers, exterior wood fillers, and multi-purpose wood fillers.
Such wood fillers allow the drilling and hold the nail or screw in place.
How to fix an over-drilled hole?
If you have drilled a hole too big in size, then fill the hole with liquid glue.
Use toothpicks to fill the hole. Cut the extra part to level the hole with the surface. Let it dry completely to fix the screw in the repaired hole.