Makita is a globally recognized manufacturer of industrial power tools, power equipment, pneumatics, cleaning solutions, and a wide range of industrial accessories.
Makita U.S.A., Inc. is headquartered in La Mirada, California, and manages an extensive distribution network throughout the United States. With over 50 years of experience operating in the U.S. and over 100 years of worldwide expertise, Makita is a leader in cutting-edge solutions. For more information about Makita U.S.A., contact them at (800)4-MAKITA or visit their website at makitatools.com
Makita Cordless Microwave Oven
According to some news, Makita is introducing a Cordless Microwave Oven to their cordless line of tools at the end of 2023.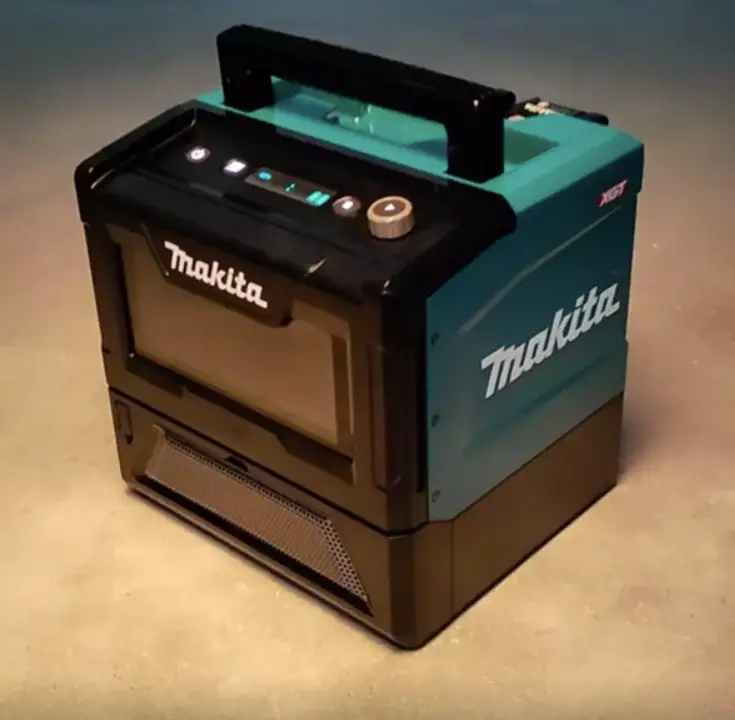 The Makita claims it the Cordless Microwave Oven will provide a high level of convenience and versatility for users. This will allow users to use this product in a wide range of locations without the need for a power outlet.
With a power output of 500W, this microwave can efficiently heat food or drinks in a matter of minutes. The device can run continuously for up to 8 minutes at full power, after which it will automatically switch to a lower power 350W mode. This feature helps conserve battery life and ensures the microwave can be used for longer periods without interruption.
The Makita claims its cordless microwave has an 8-liter (~0.28 cubic feet) capacity, making it ideal for heating up small to medium-sized meals or snacks. It is also designed with a compact and portable form factor, making it easy to carry around and store in a variety of locations.
Overall, the Makita cordless microwave will be an innovative and practical addition to the company's line of products. With its powerful performance, automatic power switching feature, and compact design, this microwave will offer a convenient solution for heating food and drinks on the go.
It will run on two XGT 40V Max 8Ah batteries. It can reheat approximately 11 refrigerated lunches or 20 drinks, each 200 mL (~6.8oz) in size.