Windows keep houses and apartments fresh and ventilated. To prevent dust from getting in, curtains are a must. 
Adding curtains to windows is necessary, but it can be a challenging task. No one wants to damage walls and drill holes, especially while living on rented property. 
To prevent damage, one looks for no drill tools. Buying no drill curtain rod holders and brackets is not easy either. 
But, I am enlisting 5 Best No Drill Curtain Rod Holders to make your purchase less tiring.
Why You Should Get No Drill Curtain Rod Brackets
No Drill Curtain Rod Holders & Brackets are convenient because;
No drilling is required.
Walls remain neat and tidy-looking. 
No Drill Curtain Rod Holders are easy to attach and detach.
How Do No Drill Curtain Rod Holders Brackets Work?
You might question how do these things even work? For comprehension, I will briefly explain how. 
There are limited ways to make use of these tools. You can;
Twist the curtain rods tightly over the corners of walls.
Stick the adhesive ones to even surfaces.
Inject curtain rod brackets into window frames. 
Suitable And Unsuitable Surfaces
You must be conscious about the surfaces you will use these rod holders for. 
Which Surfaces Are Best For These Brackets?
You can use these No Drill Curtain Rod Holders & Brackets for;
Flat window frames.
Smooth walls.
Wooden window frames.
Ceramic tiles, glass, varnished wood, and any even & clean surfaces. 
Which Surfaces Should You Avoid?
You cannot use these No Drill Curtain Rod Holders & Brackets for;
Bumpy window frames.
Bricky, cemented walls and wallpapers.
Metallic window frames.
Painted, dry, rough and unclean walls.
If used recklessly, these tools can damage your walls and windows. Any harm can be prevented by following all the given guidelines. 
5 Best No Drill Curtain Rod Holders And Brackets
Let's dive into our primary purpose. 5 Best No Drill Curtain Rod Holders & Brackets with detailed reviews are mentioned.
1. MAYTEX Tension Twist No Drill Rod & Brackets
MAYTEX No Drill Curtain Rod is the first product up on the list of No-Drill Curtain Poles. This item is metallic and weighs 2.79lbs only. As light it is, it has an awesome weight-bearing capacity. This no drill curtain rod can hold up to 18 pounds heavy curtains.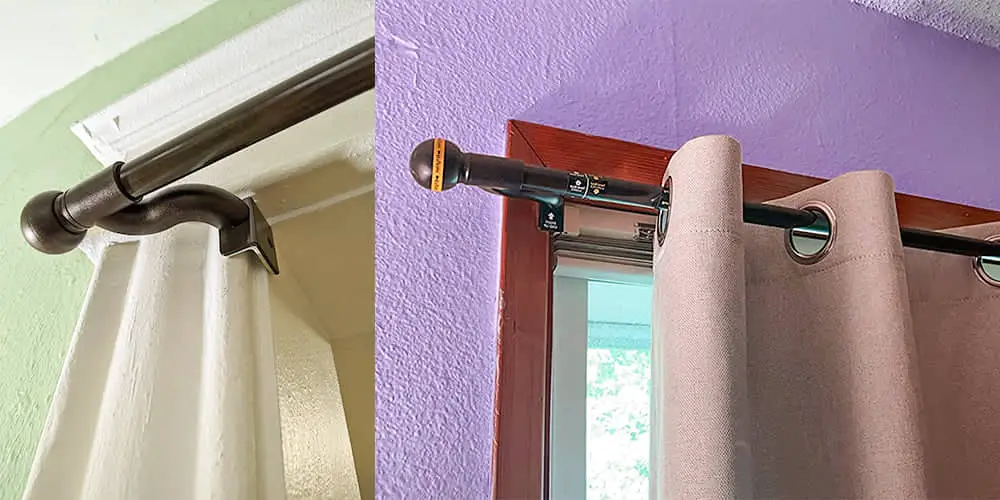 This item is brilliantly engineered. It is no-drill as well as non-adhesive. It only requires twisting and force for its mounting. No assembly is needed, hence, no unwanted puzzle solving.
To me, fixing this curtain rod is a little complicated but safe to say, easy instructions are given. This curtain rod is solely made for flat surfaces. Make sure your window frame is even before purchasing.
MAYTEX Curtain Rods are extendable too. You can stretch these rods from 48 to 84 inches fit them in your windows. This item is also available in smaller size. Get 28 to 48 inches wide ones for smaller window frames.
All three colors this curtain rod is available in, are to my liking. White, Brushed Nickel and Oil Rubbed Bronze – each fits with various colored curtains very well.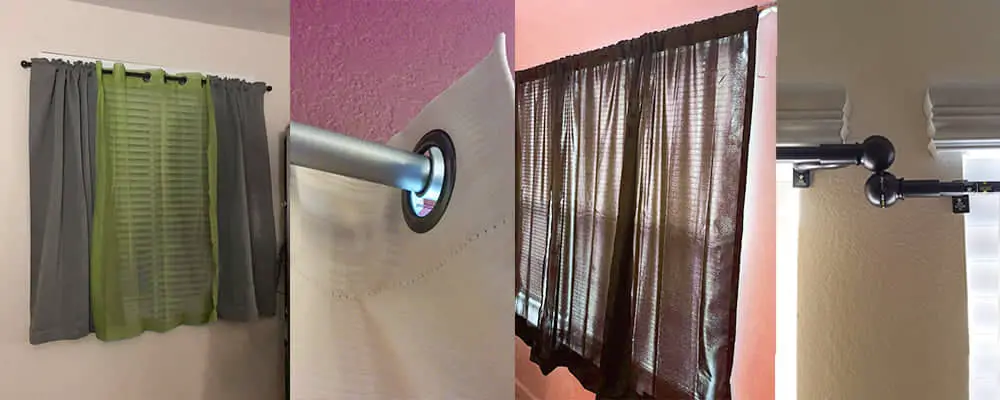 Living in rental houses can sometimes feel bounded. But thanks to MAYTEX, one can add curtains over windows without having to nail and hammer the walls.
These curtain rods being durable, stay in place for long. This lightweight item can be put into multiple uses. Use it in the kitchens, bedrooms, living rooms and even bathrooms, these curtain poles have got you covered!
2. Command No Drill Curtain Rod Hooks
On the list of No Drill Adhesive Curtain Rods, Command Adhesive Hooks are worth a mention. These hooks weigh 3.98 ounces only. Each hook can hold 5lbs of weight. These No Drill Curtain Rods are plastic based, hence, water resistant.
The variety of uses Command No Drill Hooks can be put into, is astonishing to me. Besides for curtains, these hooks can be used for clothes, accessories and more. I will strictly not recommend hanging invaluable or overweight objects.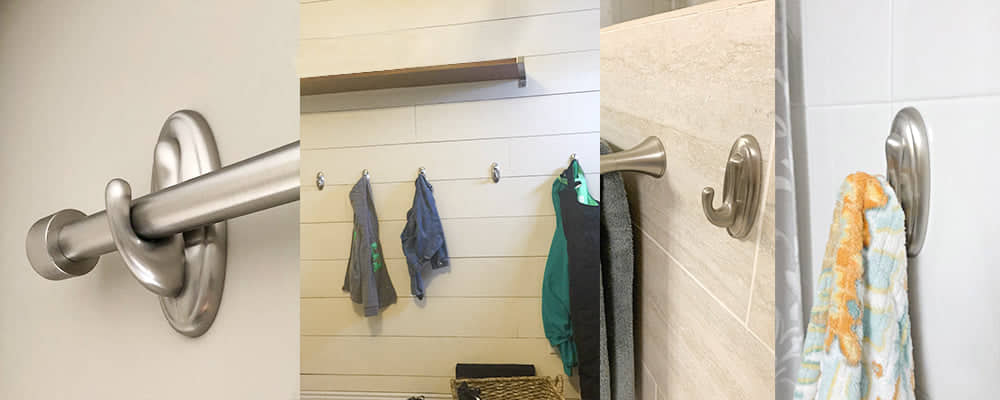 Command Adhesive Curtain Rod Hooks are available in 1 and 4 hooks styles. You can use up to 3 hooks as curtain rod holders. To make up for weight-bearing capacity, put 1 or 2 more hooks to service.
You can find hundreds of adhesive hooks in the market but this item is one of a kind. It adheres well to many surfaces and lasts for years. It can be used above windows, inside bathrooms, cabinets, bedrooms, living rooms, etc.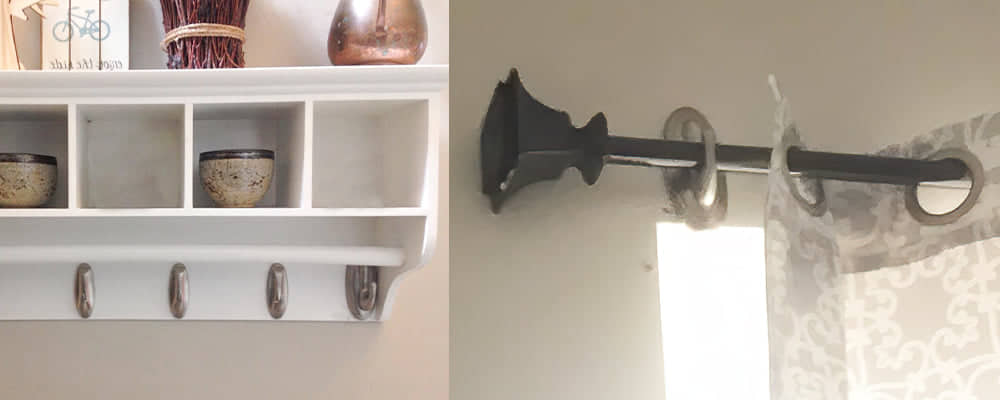 These adhesive curtain rod hooks are compatible with smooth surfaces. Like, painted walls, varnished wood, metals and glass. I will strictly not recommend this product for textured surfaces like wallpapers & bricks.
For safe and durable use, make sure to clean the surface before sticking these hooks. Or, they will fall off quickly and not adhere well. Other than that, this item is a great investment.
3. Kwik Hang No Drill Curtain Rod Brackets
Kwik Hang Curtain has made curtain rod installation quick and very easy. This curtain rod holding item is deserving to be on the list of Best No Drill Curtain Rod Brackets.
These wooden curtain rod brackets come in a pair for each side of windows. Other than a hammer, this item needs no tools.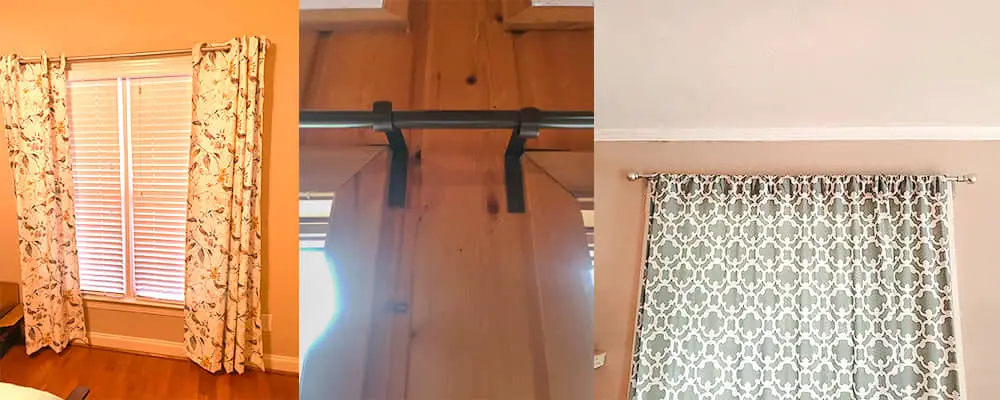 Surprisingly, you don't need any nails either! Just place the brackets on the corners of your wooden window frames and tap a few times with a hammer.
These curtain rod holders last longer than ever! Kwik Hang curtains are non-adhesive and are available in four colors; Gold, Black, Bronze & Silver. Two different sizes are at hand too.
You can purchase 5/8 inches and 1 inches long brackets for small and large curtain rods, respectively. I will suggest these brackets only if your window frame is nearly or more than 1/2" deep.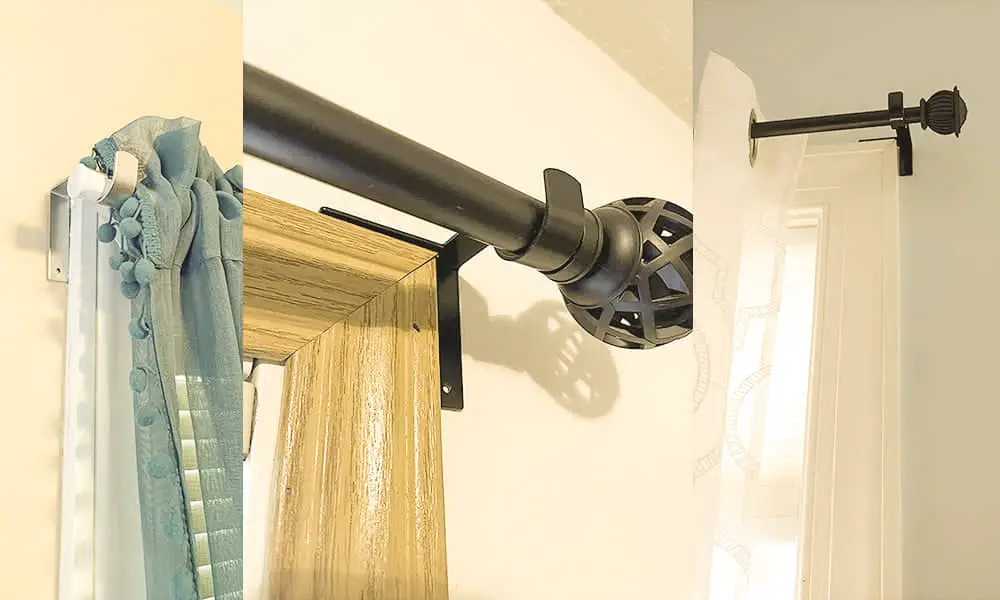 The sizes are especially genius. These brackets hide perfectly behind the rods. Kwik Hang curtain brackets are suitable for rods that are up to 40 inches long. You can also get a center support bracket for the longer ones.
What I genuinely love about this product is, it requires no more than a minute for its installation. If you're living alone, you can hang your curtains without needing any help.
The maximum weightlifting capacity of Kwik Hang Curtain Brackets is 20 pounds. It can hold weighty curtains durably and causes no damage to windows and walls.
Keeping dust outside and making peace inside, all been made easy!
4. Briofox Adhesive Shower Curtain Rod Holder
4th up on our list are Briofox Adhesive Curtain Holders. These curtain rod holders are plastic–based. The maximum weight-holding capacity is 50 pounds and the product is water-resistant.
I like how this tool is transparent. After application, these patches are almost invisible. This item is mainly made to protect your tiles and loved ones from any damage.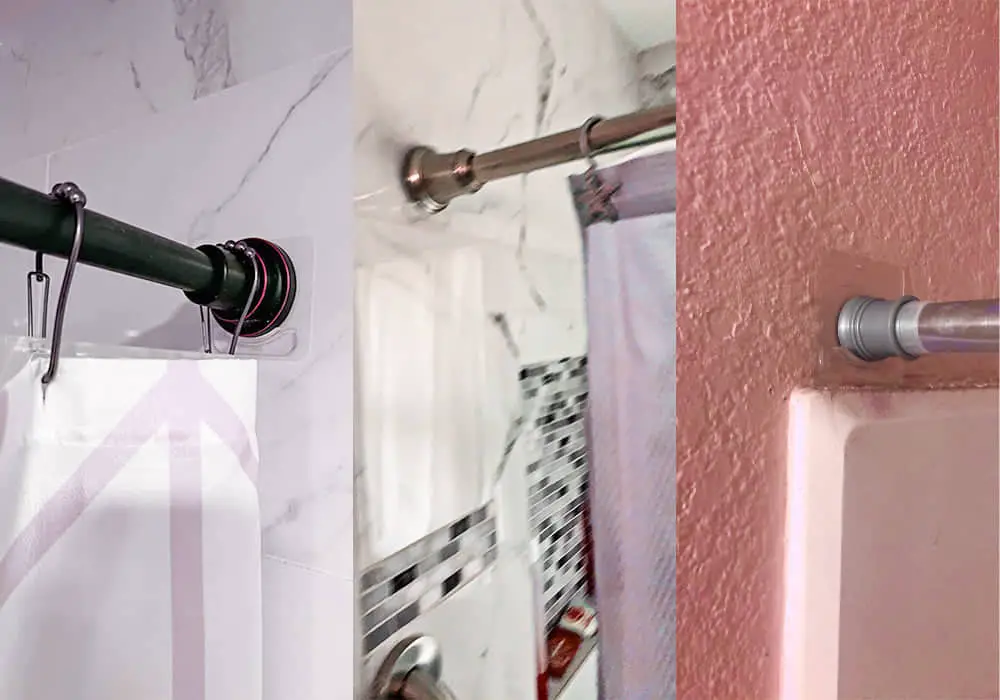 Sometimes, curtain rods fall off without any warning. To be on a safer side, you must buy these adhesive patches. Briofox Curtain Rod Holders are humidity–friendly too.
You can attach these to your shower booth walls and forget about the rod falling off. For durability, make sure the surface is smooth and clean.
I will suggest you to wipe the surface clean with alcohol. After cleaning, let it dry for about 1 minute. Make sure you're applying them correctly. Because once attached, these adhesion pads are hard to pull off.
These adhesive curtain rod holders are compatible with smooth surfaces only. I will not recommend these for uneven or textured walls.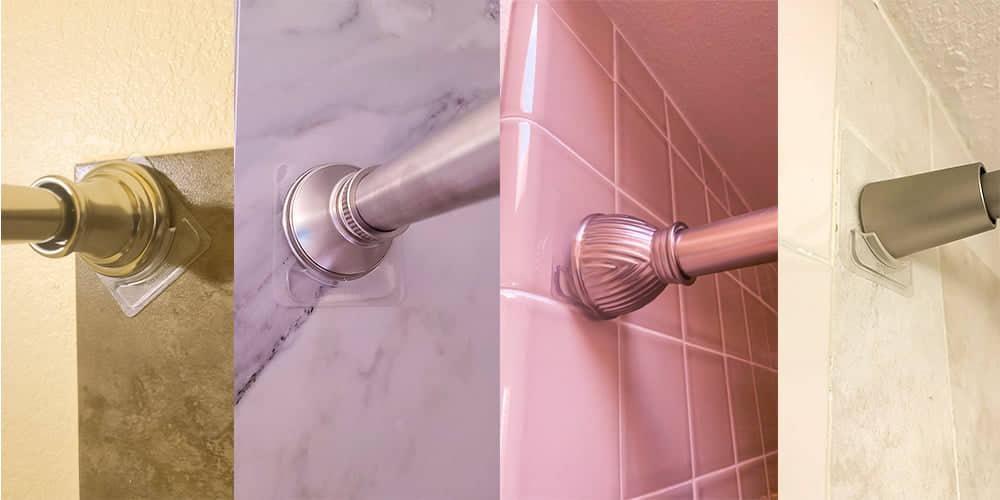 You can also customize the size to your liking. Since it's plastic, one can easily cut it from sides. It is available in both small and large sizes anyways.
For better protection, you must not put overweight curtain poles on it. Overburdening it might loosen the adhesion and the rod may fall off.
With healthy precautions, you can be safe any time, any day!
5. Codoule Self Adhseive No Drill Curtain Rod Holders
For their numerous qualities, Codoule Self Adhesive Curtain Rod Holders hold a position on this list. Firstly, these curtain holders weigh only 6 ounces. Secondly, they can hold up to 13lbs of weight.
These self adhesive rod holders can be used for multiple purposes. One can use this product for curtains as well as for kitchens, bedrooms, shower booths and toilets. 
Since it is self adhesive, this item is applicable to even and smooth surfaces only. It is suitable for ceramic tiles, glass doors, varnished wooden and metallic surfaces.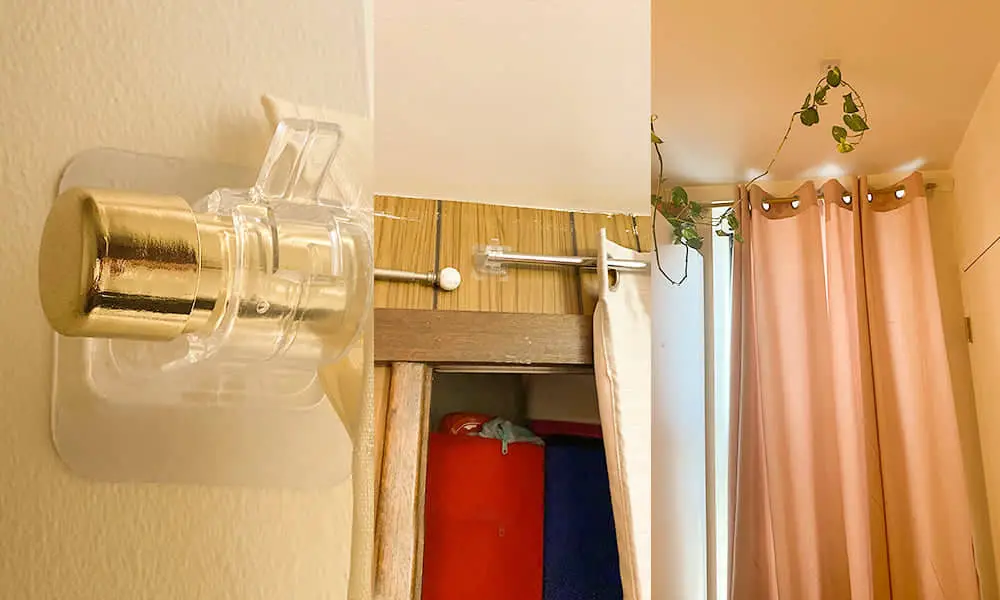 I will strictly not recommend these rod holders for wallpapers, painted walls, cement and textured surfaces. They will scratch off the paint or cause irreparable damage. 
The material used is stainless steel and plastic. So, water resistant. Therefore, you can easily separate the bathtub from the toilet. 
It holds curtains for an extended period of time and is stable. This product is available in a set of 10 & 8 holders. 
Codoule Curtain Rod Holders come in two colors – Black and white. To my relief, transparent ones are available too.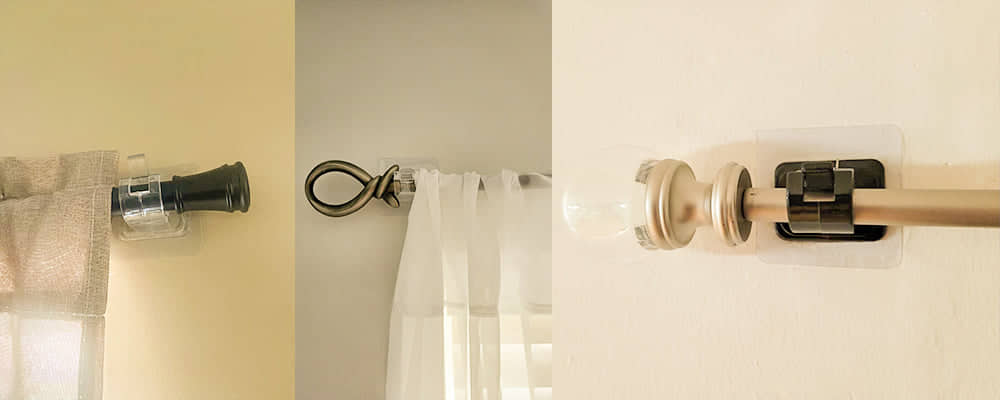 These holders are not only minimal but also add to the beauty of your house. You can easily stick or remove them. 
Removing it might leave some adhesive residue on the surface. But, you can use adhesive removers to get rid of the sticky leftover. 
These curtain rod holders are suitable for the poles of 1-2 cm diameter. Not really suitable for stylish rods but work amazing for the simple ones.
In Conclusion;
Searching for tools that go easy on windows and walls is very hard. In this article, 5 best no drill curtain rod brackets are mentioned.
All products are affordable and provide efficient service for longer periods of times. Must-to-follow instructions for careful use are also given.