If you want to know how to select a cordless drill, you are at the right spot. Cordless Drill is a versatile tool and can be used for two major tasks. Obviously, the first one is drilling a hole, and another one is to use it as an automated screwdriver.
Drilling a hole is something you cannot do on your own; you will always need a corded or cordless tool for it. For fitting screws, you can use a normal hand screwdriver, but the process is slow and painful. So, in short, a simple process like installing a shelve or fixing a portrait on the wall can become quite cumbersome if you don't have an electric tool for it.
For the tool, being cordless is another added benefit. In summary, a drill is an essential item of your toolbox.
Selecting the right tool in the sea of products available can be tricky, and a single mistake can result in the wrong tool in your hand. Just remember these points that I will share in this blog post, and I am sure you will be fine.
Key Points
While making the purchase, take care of these points.
Properly Assess the task and requirements.
Understand which type of drill you need.
Required Power (We will cover Battery voltages & Torque in this heading)
Select a Trusted Brand
Important features that matter
Assessing the Task
First of all, decide what you really need to achieve. Then, let me tell you a few scenarios.
Planning to drill holes in concrete or masonry, get a Hammer Drill. Planning to drill holes in wood or other soft materials, get a standard drill. Planning to drive small screws, get a power screwdriver. Planning to drive a lot of long screws, get a heavy-duty drill with driver mode, or get an impact wrench. So, assessing the task at hand is extremely important; otherwise, you will have the wrong tool.
Estimated continuous usage of the Drill. This will affect the battery size.
How frequently do you need to use the drill? This will affect the brand selection.
How much torque do you need at max? This will affect the category of the drill.
On which type of surfaces will you use the drill? This will affect the type of drill.
On-Grid or Off-Grid? This will affect the number of batteries you will need.
The expansion plan for adding more tools to your toolbox. This will affect the brand.
And your budget.
Select the right type of Drill
At TCT, we always recommend selecting the drill which can do most of the tasks at once. Nowadays, there is a marginal price difference between a regular Drill Driver vs. a Hammer Drill Driver. A Hammer Drill driver has all of the functionality a regular one has but not vice versa.
At the moment, we are considering that you have assessed the task at hand, and now you know your requirements very well.

So, first of all, you need to select the type. We have three options in a cordless drill type. The first one is a normal drill driver, another is a drill driver with a screw driving feature, and the last is a Hammer Drill with normal drilling functions and Screw Driving features.

You can also find a specialty drill designed for a specific task, such as Right-angle Drills or Rotary Drills. Make sure you don't need one of them.

So, to sum it up, try to select one with a hammering feature. You might not need it for drilling into concrete, but no one knows; the need may arise 😀
Select the right amount of Power
Next is the power. As you know, the drill weight is somehow directly proportional to the juice that it can deliver. So never expect a lightweight single-pound drill to be powerful enough to last a mile. Other than that, battery voltage and AMP HOUR have a big role to play.
12V drills are generally lightweight, designed for small applications and home use. Some top brands like Milwaukee and Dewalt make high-quality industrial-grade 12 V drills.

On the other hand, 18V-24V drills are designed for professional use, are expensive and powerful. Therefore, please select the one as per your requirements, which we suppose you have assessed in the previous part.

Amp Hour of the battery also plays a huge role in how much torque can be produced by the drill. It is due to the factor known as C-Rating of a Cell or Discharge rate. A Li-Ion cell (Mostly used in all drills nowadays) has a specific C-Rating, and the available current is multiple of AH by C-Rating. So a 2-AH battery with a C-Rating of 10 can provide a max current of 20 amp. Multiply that with the drill voltage, and you get the power output. The same battery type in 4-AH with a C-rating of 10 will deliver 40 amp, twice the power.
In-short, if you have a professional task at hand, select a drill kit that comes with a high amp battery. You can also buy the stand-alone tool and get the batteries separately. Never expect a lot from a drill that comes with a mini 1-2AH Battery. They are suitable for in-frequent use.

So, after that comes to the category. Normally, the manufacturer categorizes the tools in different types like compact, mini, and starter, which are good for small jobs. Then comes the mid-torque category. These drills are of professional grade and are most suitable for a variety of use cases. After that, the heavy-duty category is mostly used at construction sites, big projects, and very high demanding tasks.
Select a well-trusted Brand
There are many underdogs in the market with outstanding products, but the problem is that a few tools of a specific brand work well; the rest mostly underperform.
Big names like Dewalt, Milwaukee, Makita, Bosch, etc., have invested heavily in Research and Development. As a result, these companies have pioneered features that may look very preliminary in the first go but are life-saving in the long run.

So trust me, and go for the big brands if that is under your budget. An extra dollar spent will be worth it.
Sticking with a single brand is also important, as that will save a lot on charges, batteries, and accessories.
Select the right Features
This section will discuss the important features of a drill that you should take care of before making a purchase.
1. Chuck Size & Type
Chuck is an adjustable grip at the tip of the drill to hold the tool and is available in different sizes. Half Inch and three by eight inches are the most common sizes available. The rated size corresponds to the max tool diameter, which can be accommodated in the tool. Further, a large and powerful drill comes with a larger chuck and vice versa.
Cordless drills come with a key, keyless and hybrid chucks. Keyless is the most popular choice due to its ease of use. Chucks with keys are more secure and ensure a tight grip.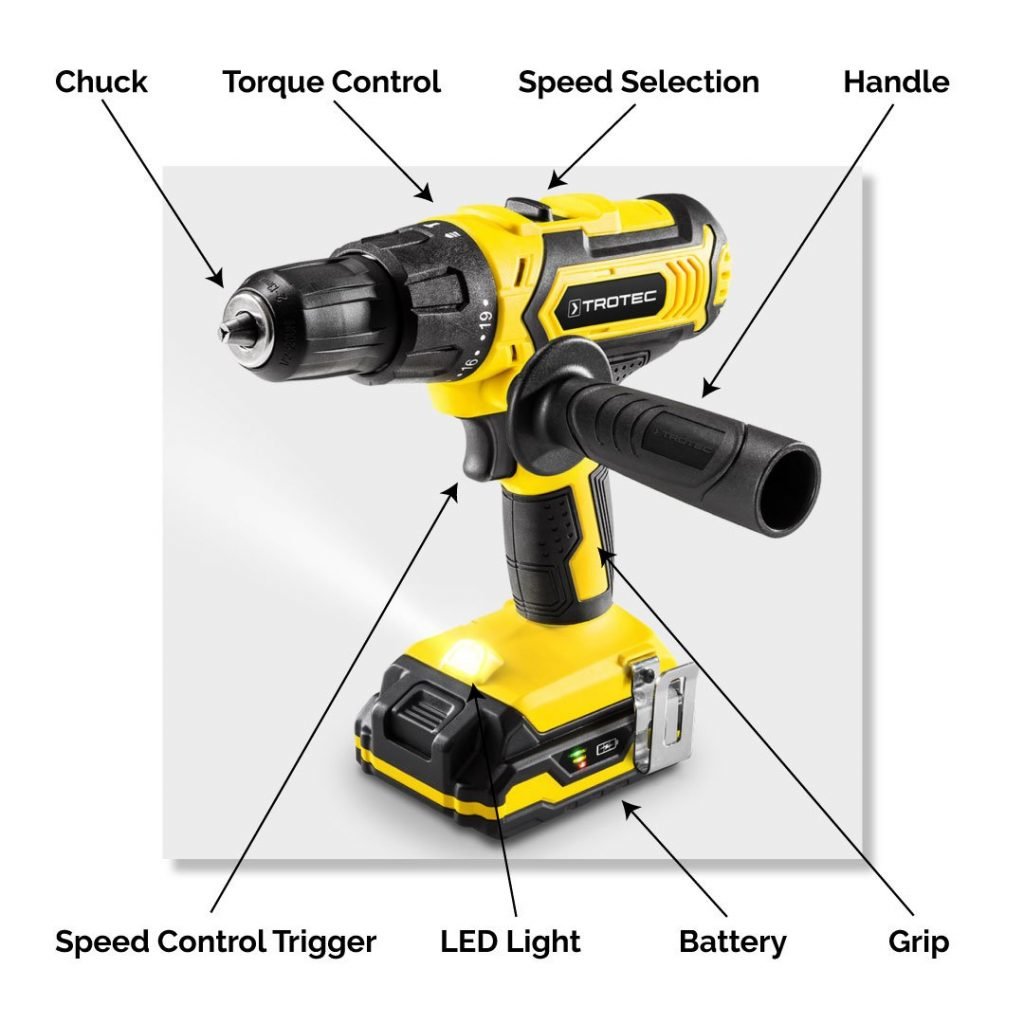 2. Battery and Charger
Li-Ion batteries are leading the way for charge to weight ratio, discharge rate, and cost. Nowadays, almost every manufacturer has shifted to Li-Ion-based technology, so it is no longer a question of choice. However, some nifty tech that comes with these batteries can be a deciding factor while selecting the battery.
A few of them are charge indicators, battery protection systems, and charging speeds. Smartphones have enabled the new era of fast charging and have helped in advancing technology.
Some good brands offer batteries that are compatible with fast charging, and they come with dedicated fast chargers. This can help in avoiding a big pile of extra batteries as the downtime will be minimal.
We have also made a guide on how the basics of charging works, which will help you understand how fast charging works.
3. Motor Type
Again, this is a lame feature to discuss these days. Almost all of the newer models of drills come with brushless motors. A few manufacturers still stick with brushed motors, but their technology is good enough to compete with brushless motors.

In short, go for the drill, not for the motor. Good drills come with well-sized and type of motors.
4. Extras
When making the purchase, you can also account for the extra accessories which come with the drill, like the cases, belt holders, magnetic trays, bits, and many more.
There is also another aspect you should account for. If you are going to make your first purchase in cordless tools, then it is wise to look into the complete offering of the brand you will select. Since most of the time, the chargers and batteries are interchangeable, resulting in many dollars saved.
Get Started
In the end, all I will say is, get things done.

In the end, it's all about the job well done. These choices can always be reverted and changed. In the days of easy online shopping, you can always return the product if you don't like it.
Don't forget to see the list of recommended products we have complied with to skip all of the above processes.
So, just get started.
Here are a few articles which may help you make the right choice.
Peace.