What could be worse than having nail holes in drywall? They surely ruin the overall finishing of the wall and become a nightmare for most people.
Eventually, you try to cover these up with different things until your wall gets excessive with unnecessary frames and decorations.
Well, to save you from doing such a thing, I have developed a few great tricks for you to fill nail holes in drywall without painting.
The best way to fix nail holes without painting is to fill them with spackle or putty. Spackle and putty are easy to apply, dry in less than 15 minutes, and disappear inside the holes.
I have also stated a few hacks in this blog post involving baking soda, soap, toothpaste, chalk, and glue to do the job without any material.
This filler (Amazon Link) is also one of the best spackling tools to fill nail holes without painting.
Common Problems You Can Face while Filling Nail Holes
Filling nail holes is an effortless task that almost any individual can do; however, there are still some challenges you can come across while filling nail holes in drywall.
One thing that can cause trouble is when the paint of the wall and the nail hole mixture do not match after drying. You can prevent this by testing a small amount of the mix with color in a concealed corner of the wall and waiting until it dries to see if it is okay to carry on filling the nail holes.
Another problem you might face while working with putty is that they tend to dry quickly. So if you find putty hardened, you can try putting a few drops of paint thinner and start combining them using your hands until it is softened.
Next, try to clean the nail hole before going ahead with the filling, as it can create a total mess, and you can end up in a worse situation.
What Do Professional Painters Use to Fill Nail Holes?
If you want to do it like the pros, ensure you know exactly how they do it and what they use to fill the nail holes. Most professional painters go for a putty as they fill the nail holes.
Putty is an oil-based product made with ground chalk and linseed oil. You can use it efficiently while filling the nail holes, and it works just as fine. Follow the steps below to ensure you do it the right way.
Step 1: Take a small chunk of the putty.
Step 2: Put it over the nail hole.
Step 3: Use your thumb to push it over the hole with a bit of force.
Step 4: Cut the excess putty and flatten it out using a flat material.
Step 5: Coat it with a primer and then paint over it.
The professionals use this fantastic technique, and so can you!
Hacks to Cover Nail Holes?
If you want to explore more about the tricks that can help you cover the nail holes in drywall, you can continue reading to find some of the easiest ways using just some household items.
Using Baking Soda
Baking soda is an excellent option to consider filling the nail holes; it's a simple procedure requiring little energy.
Just take some baking soda and mix it with some glue to make a consistent paste. Then, apply the mixture directly over the nail holes and flatten it with a putty knife.
Wipe off the excess and conceal the nail hole by painting over it with a primer to match the wall color.
Using Soap
Yes! You read it right. You can even use a soap bar to fill the drywall's nail holes. All you need to do is, get the soap, rub it over the nail hole until it fills up, and then clean if there are any remains of the bar with a damp cloth.
Remember that it might come out as a temporary solution but a quick one. I like using soap because you don't always have to go for a white-colored one; you can buy one that matches your wall color, and you are good to go.
Try it out yourself and see how good this method works.
Using Glue
Another clever way to fill nail holes in drywall without painting is to use Elmer's glue.
You need to fill the hole with the glue, clean away the residue, and let it dry up for a few minutes.
You will see how effectively the glue covers up the hole. It provides a great approach, specifically for the white-colored walls.
How to Fill Larger Holes?
If the abovementioned methods did not work for you, you have a slightly larger hole. You don't have to worry, as there is always a way out!
For the first one, I recommend using drywall mud over the hole.
The drywall mud (also known as joint compound) is easy to use and instantly solves the problem. Follow the instructions available at the back of the container and mix it nicely. Then, put the drywall mud into the hole and fill it. After the mixture dries up, use sandpaper to even out the surface.
If you don't have the drywall mud available, you can refer to Polyfilla, which offers an excellent alternative. It can fill holes in about one application and is simple to sand, resulting in a perfect finish.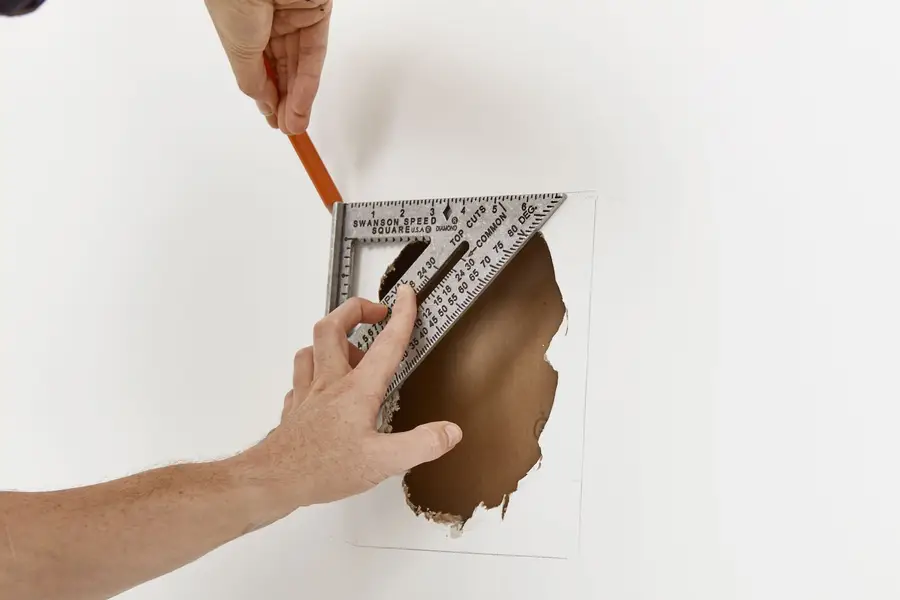 How Do You Fill Nail Holes in Drywall With Toothpaste?
Toothpaste is the most commonly used item to fill nail holes in drywall without painting, as it is a quick and cheap way to solve the problem. It is also readily available and can minimize a lot of hard work for you.
The technique to use toothpaste is simple, take the help of a toothpick or an earbud to get a small amount of toothpaste out of the tube, then put it into the nail hole and remove the excess using a putty knife.
When the toothpaste dries up, you can apply a layer of paint over it if the wall color is not white.
However, if your wall is already white and you want to prevent future cracking, you can always use a squashed Aspirin tablet and mix it with the toothpaste before applying. This trick will ensure that the nail holes are entirely undetectable.
Can I Use Caulk to Fill Nail Holes?
Using caulk is okay if you fill the large cracks and gaps in the exteriors, but it won't be handy for filling nail holes in drywall or wood surfaces
It is mainly because, over time, caulk will shrink off and leave a divot behind. So, it is best to go for the spackling or use putty when dealing with nail holes in drywall.
Do You Need to Fill Nail Holes Before Painting?
The answer is YES. You always have to fill and cover the nail hole before painting over it. The reason is that without filling the nail holes first, painting can make them stick out, and they will become a lot more noticeable.
To avoid such happenings, try to follow the easy ways to fill the nail holes discussed in the article.
How to Nail in Walls to Avoid More Damage?
Now, if you are looking for ways to avoid any damage to your wall and keep it safe from any harm, I have listed some easy steps that you can follow to get the job done right.
Firstly, mark the exact point where you need the nail to be hammered.
Then, use a cardboard sheet to hold the nail in place and keep it fixed.
If not cardboard, you can also opt for a comb, hairpins, or pliers.
Align the nail over the mark and hammer with a gentle hand.
Once the nail is inside the wall and can stay on its own, you can remove the cardboard.
You can hammer until the nail is entirely in its place.
Other than this, if you see any nail that is popped out of a stud due to not being secure, I would suggest you never use a hammer to force it back in as it will only worsen the condition of the wall. You can get the nail out and place it at a different point to secure it properly.
You can check out our recommended tools to further help you with your task.