Robert Bosch Tool Corporation, Power Tools Division of North America, formed in Jan 2003 by merging North American power tool businesses into one. With a century of manufacturing experience, Bosch is renowned for engineering excellence.
Bosch associates across North America continue to uphold world-class design, manufacture and sale of power tools, rotary and oscillating tools, accessories, and measuring tools. For more info, call toll-free 877-BOSCH-99 (877-267-2499) or visit www.boschtools.com.
18V Brushless 1/4-Inch Hex Screwgun (GTB18V-45) and Cut-Out Tool (GCU18V-30)
"We are thrilled to announce that we are expanding our product line to include two new tools specifically designed for drywall projects. Our GTB18V-45 screw gun is designed to be well-balanced for comfortable use between the thumb and index finger.
Meanwhile, the GCU18V-30 cut-out tool boasts an ergonomic slim grip for enhanced comfort during use," explained Corey Hinkel, Product Manager for Bosch Power Tools. "These tools, along with other products on our growing 18V platform, have been developed to address industry challenges head-on and prioritize worker needs through ease-of-use and time-saving features."
Features and Benefits
GTB18V-45
XTEND Drive: Motor activates only when bit senses pressure for less noise and increased runtime
Retractable Depth Gauge: Depth gauge cone removal unnecessary for screw reversal
Well-Balanced Grip: Thumb and index finger control operation for maximum comfort
Variable Speed: Controls operating speed for precise tool performance
Auto-Feed Attachment (Sold Separately): GMA22 for fast and repeatable fastening without manual screw loading.
GCU18V-30
IP 5X-Rate Dust Resistant Switch: Helps prevent dust from getting into the switch.
Dust Hood: Attaches to a vacuum to contain drywall while cutting.
Convenience Brake: Quickly stops the tool.
Soft-Start Technology: Reduces the startup torque.
Specification GTB18V-45
| | |
| --- | --- |
| Voltage: | 18V |
| No-load Speed [RPM]: | 0-4,500 |
| Tool Width:   | 2.7 inches |
| Tool Height: | 7.6 inches |
| Chuck Size: | 1/4-inch Hex |
| Weight (Bare Tool): | 2.1 Lbs |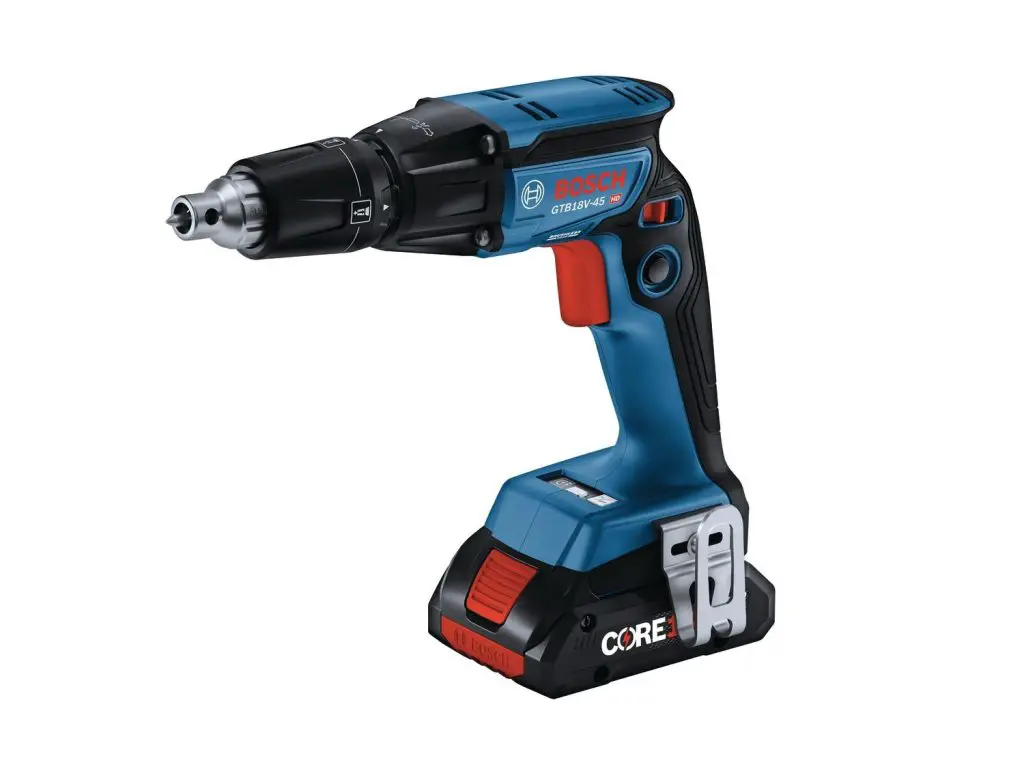 Specification GTB18V-45
| | |
| --- | --- |
| Voltage: | 18V |
| No-load Speed [RPM]: | 30,000 RPM |
| Cutting Depth:  | 1.77 inches |
| IP Rating:   | IP 5X |
| Dimensions: | 10.24 inches X 3.2 inches X 3.9 inches |
| Weight (Bare Tool): | 2.1 Lbs |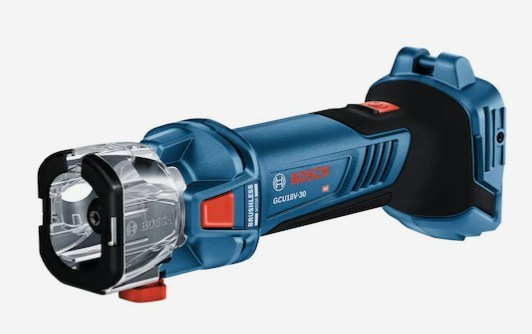 The Bosch GTB18V-45N includes an 18V Brushless 1/4-inch Hex Screwgun, a screwdriver bit, and a belt clip. The kitted version GTB18V-45B15 includes the same items plus a GBA18V40 18V CORE18V lithium-ion 4.0 Ah compact battery, an 18V Charger, and belt clip.
The Bosch GCU18V-30N 18V Brushless Cut-Out Tool includes a Brushless cut-out tool, Dust Hood, 2 1/8-inch bits, 1 1/8-inch collet, 1 5/32-inch collet, 1 1/4-inch collet, footplate, and belt clip.
The Bosch Power Tools GTB18V-45N (MSRP: $159.00) and GCU18V-30 (MSRP: $139.00) will be available at Lowe's in October 2022, with future additional retailer availability. The Auto-Feed Attachment (MSRP: $99.00) is sold separately and will be available at Lowe's in October 2022. Visit our Press Room at pressroom.boschtools.com or connect with Bosch Power Tools on Facebook and Instagram for more information.