Milwaukee Tool is a top-tier producer of robust power tools, hand tools, and accessories intended for professional users across the globe. Since its inception in 1924, the company has consistently set the industry's benchmark for durability and performance. Milwaukee Tool remains at the forefront of the market by staying dedicated to the trades and striving to offer inventive solutions tailored to specific trades.
THE POWERFUL NEW M18 FUEL™ BRUSH CUTTER IS DESIGNED TO CLEAR GRASS, WEEDS, THICK BRUSH, AND SAPLINGS UP TO 3 CM IN DIAMETER.
Milwaukee claims this tool reaches full throttle in under one second for instantaneous power and ultimate control.
The M18 FUEL™ Brush Cutter (FBCU-802) is tailored to fulfill the demands of professionals and comes equipped with a trimmer head that can cover a cutting swath of 35 – 40 cm, along with a 23 cm blade that features a 4-tooth design for clearing thick brush, enabling users to complete the task with greater efficiency and effectiveness.
This brush cutter incorporates a POWERSTATE™ Brushless Motor, which maintains the power to tackle the most challenging applications without bogging down under load.
The brush cutter employs REDLINK PLUS™ Intelligence to provide prompt throttle response for maximum control and enhanced productivity. Additionally, it offers a two-speed control function that optimizes run time for low-power applications while ensuring maximum power for more demanding tasks.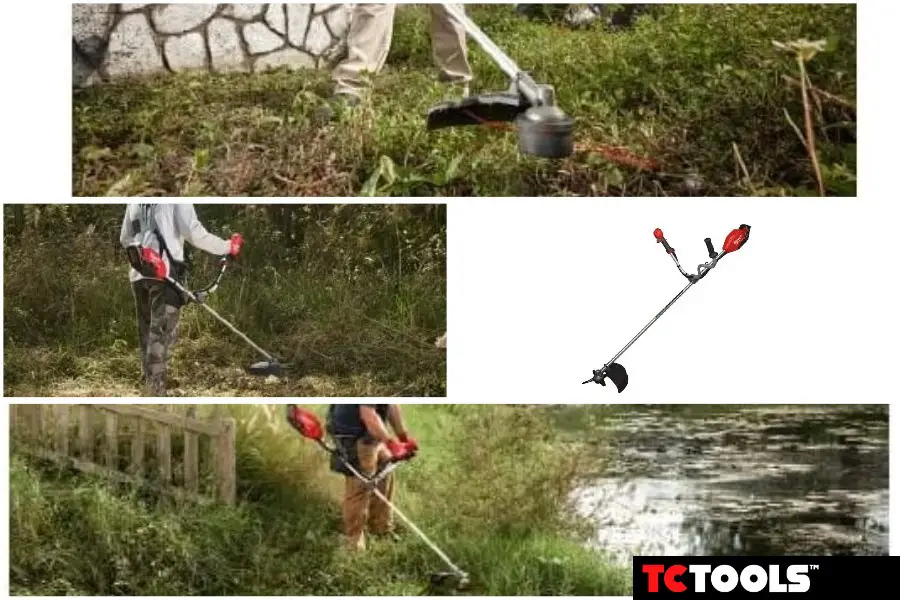 The M18 FUEL™ Brush Cutter delivers a superior cutting experience to professional landscapers while reducing fatigue during prolonged cutting sessions. Its balanced, lightweight design, combined with a double shoulder harness, enhances user comfort and ease of operation.
Specifications
Battery type:
Lithium-ion
Battery system:
M18 FUEL™
Cutting Line Diameter:
⁵/₆₄ / ³/₃₂ in
Cutting Path Width:
13 ²⁵/₃₂ – 15 ³/₄ in.
No Load Speed:
o Gear 1: 0 – 4900 RPM
o Gear 2: 0 – 6200 RPM
Length:
72 ³/₆₄ in
Line Feed System:
Bump Head
Weight with Battery Pack:
14.33 lbs. (M18 HB12)
M18 FUEL™ Brush Cutter
M18 FBCU-802